Debt is one thing that nobody wants to think about but when it is there, you have little choice. You can't ignore it or avoid it. The only thing you can do is face it head on and get rid of it with the same passion that you acquired it. Granted that is easier said than done…nobody likes to pay off debt. Since my goal is all about helping you coupon, save money, pay off debt, and do some pretty amazing things. I thought I would give you some easy ideas to help you pay off your debt.
Fortunately, you can eliminate debt in a painless way if you are creative. Different people "feel" it in different ways, but generally speaking you can find a way to pay off your debts with a minimum of stress and frustration.
Here are ten of the better ways I have found to pay off debt in a "pain free" way:
1. Get organized
I'm all about the importance of organization when it comes to couponing, and pay off debt is no different. No debt elimination project is going to work without your being highly organized so get it all on paper or in a computer program. If you know what you owe, how much it is costing you and who you owe it to, that is half the battle. Write it all down so you can physically see the "monster" in front of you.
2. Pay high interest items first
Obviously it makes sense to pay off the debts that are costing you the most first. Throw money at that debt until it is paid off and pay the minimum on the others. Then move on to the next highest interest debt and so on. You will pay off more debt if you get rid of those high interest rates first.
3. Cut out one hobby and use the extra to pay debt
Most of us have hobbies or even bad habits that we could do without. Look at your life and discover that thing you care less about. We all have them. Look closely and you will find extra cash for your debts.
4. Shop around on your car insurance
The percentage of people that are paying more than they should for car insurance has got to be sky high. Shop around and put the savings towards your debts. Make sure you also read my post on how to save on car insurance so you can save even more money.
5. Use coupons!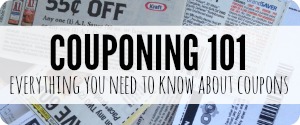 Obviously…. use coupons to help cut your grocery bill. Then use the money you save to pay off your debt. This is the MAIN way that we paid off our debt. Make sure you read my couponing 101 series so you will know how to use coupon effectively so you can save the maximum amount of money.
6. Buy common items in bulk
If you use an item every single week, you should buy it in bulk. Sam's and other stores like it are great options, but coupon deals are sometimes even better. However, items like meat,  and cheese are one of those items you should buy in bulk. Make sure you ready my Ways to save on meat guide and my post on how we save on cheese.
7. Give homemade gifts this year
If you are like the average family, you give away hundreds if not thousands of dollars in gifts every year. Commit to homemade gifts, crafts and bakery goods for the coming year and save a ton. Put the savings towards getting out of debt. The people that matter will understand and love your homemade gifts.
This year we will be posting more and more homemade gifts. In the meantime, check out our homemade cinnamon bath salts. What types of homemade gifts have you made in the past?
8. Avoid window shopping
Window shopping while in debt is kind of like an alcoholic hanging out in a bar but not drinking. It just doesn't make sense. Stay out the stores and the malls and you will automatically save money. I promise. 😉
9. Take a staycation this year
Instead of paying the huge prices to go on vacation, commit to a home vacation this season. Do something local that is still exciting and fun and save the extra cash you would have spent. We love staycations, almost as much as real vacations.
10.  Cut out the extra cable channels
Nobody…and I mean nobody… needs 1,000 channels. Agreed? If you really want to save a ton of money, cut out cable all together. If you are not that brave (it's ok…. I want to, but I'm not brave enough yet) then just cut out some of the channels. Call your provider and see what you can do to save more money each month. Put that extra towards debt.
Those are the first 10 tips that come to my mind that you could do to easily do to help pay off your debt without really feeling it.
What are your tips?
Make sure you read some of our other popular posts on saving money: