Have you ever wondered what some good Vaseline uses are? We scoured the internet and found some of the most useful and innovative uses for the ever so inexpensive vaseline. Many of these will actually help you save a bit of money. No need to waste your money on expensive products when Vaseline will actually do the trick!
Some of these we have tried before, but most of them were new to us. Which of these vaseline uses have you tried before?
Health & Beauty
1. Remove Eye Makeup
You know one of the worse thing you can do when removing your makeup is to tug and pull at your eye area. Try using a little vaseline to gently remove eye makeup.
2. Healthy Lashes
Leave a little vaseline on your eye lashes after removing your eye makeup and you'll notice some growth in your lashes. This may take a few weeks to notice, but many people swear by this.
3. Smooth Hair
If you notice some split ends forming before your next hair cut, rub a little vaseline on the ends. The vaseline will help hide the look of the split ends.
4. Perfect Lipstick
Apply a small amount of vaseline to the front of your teeth before applying your lipstick. The vaseline will prevent any lipstick transfer to your teeth.
5. Flawless Manicure
Rub a little vaseline on the skin on your fingers surrounding your finger nails. Apply your nail polish as usual. Easily remove any stray polish from your fingers easily by just wiping away. Talk about a time saver!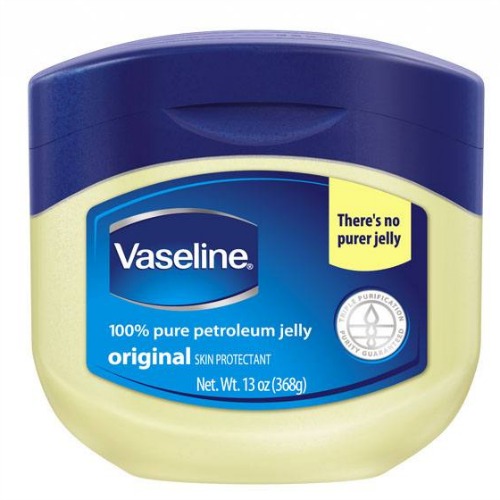 6. Home Hair Coloring
If you color your own hair and get tired of scrubbing your skin afterwards, vaseline can help you. Spread a little vaseline just under your hair line before you color your hair. Any stray hair color will "stick" to the vaseline and not your skin. When you are done coloring your hair, simply wipe away the vaseline and you will be left with a nice clean finish.
7. Stay Fresh
The next time you are about the put on some perfume, try adding a small amount of vaseline to your "pulse points". Spray your perfume as normal and you'll notice your fresh scent stays with you all day (and night). 😉
8. Soothe Dry Skin
If your heels have seen better days, rub some vaseline on them before going to bed. Put some socks on your feet and sleep just like that. In the morning, you will notice your heels will be so much better.
9. Tame Those Brows
Vaseline does a great job at making sure those eyebrows stay right where they should. Be careful though, a little goes a long way. 😉
10. Personalized Makeup
Add a little vaseline to your favorite powdered make up to create your very own cream makeup. This works great for blush and eye shadow. You can even add a little vaseline to your favorite lipstick for a creamy blush. Experiment and have fun here.
11. Unstick that Gum
There are many different ways to get gum out of someone's hair without using scissors and vaseline is definitely an option. Coat the hair around the gum with vaseline. Continue to work vaseline into hair and gum until the gum slides out of the hair. You may need to wash the hair a few times, but this does work great.
In the Home:

1. Glide Smoothly
If you have a sliding door that does more sticking than sliding, try coating the rails with a bit of vaseline. Run the door back and forth over the rails a few times and you will notice a huge difference.
2. Squeak No More
If you are out of WD-40 and have some door hinges that are getting squeaky, apply a little vaseline to the hinge. Open and close the door a few times to coat the hinge. Do you hear that? Nope, didn't think so. 😉
3. No More Stuck Nail Polish Bottles
You're getting ready to polish your nail, but you just can't open the bottle! Don't you just hate when that happens? Next time you are done polishing your nails, coat the neck of the nail polish bottle with a little vaseline before closing it. This will make sure you don't have any issues opening it next time.
4. Remove Makeup Stains
If you find makeup stains on your clothes, don't fret. Dampen a cloth and work in a little vaseline to the stain. This will help lift the stain from your clothes. Wash as usual.
5. Unstick Outdoor Bulbs
The next time you replace an outside light bulb, coat the threads of the bulb with a little vaseline. This will make sure the bulb does not stick in the socket, especially if moisture gets in there.
6. No More Shriveled Pumpkin
I am definitely going to try this next Halloween – rub a little vaseline along the cut edges of your carved pumpkin to slow the edges from getting all shriveled and wrinkly.
7. Keep Ants Away
If ants seem to get into your pet's food outside, coat the ground around your pet's dish with vaseline. This will make a protective layer the ants (or other creepy crawlies) will not be able to penetrate.
8. Soothe Pet Paws
If your pooch has some dry, cracked pads on his feet, rub some vaseline on his pads. You may need to put some kids' socks on his feet to make sure he doesn't lick it all off.
9. Fly Trap
Melt some vaseline and pour it into some mason jar lids. Set these around your picnic tables outside and you'll notice fly after fly getting stuck in them. Better there then your food. 😉
There are many other uses for vaseline, but these 20 are among our favorites. What other vaseline uses have you tried before? There are several on this list we are excited to try. Tell us what your favorite uses for vaseline are. We'd love to hear from you.
Make sure you check out some of our other clever uses posts: