Are you a Kohl's shopper?  I am! Let's talk how to save money at Kohls easily. 
In addition to big sales and promotions, many stores have little known tricks that you can use to save money.  The key to saving big is knowing these tricks and putting them to good use.
Would you like to find out how you can save big on your next Kohl's shopping trip?
How to Save Money at Kohls:
1. Get Kohls Coupons:
It is a lot easier than people think to get Kohls coupons. Most people will suggest you sign up for the Kohl's e-newsletter, but did you know that you can also sign up for text alerts from Kohl's as well?  Head on over to Kohls.com to sign up for that newsletter to get a coupon for 15% off your next purchase.  Once you are done with that, make sure and text SAVE07 to 56457 and you will get another 15% off coupon via text!
Kohl's Yes 2 You Rewards:
The Kohl's Yes 2 You Rewards program rewards you with $5 in rewards for every $100 you spend.  As a member, you also qualify for members-only sales and discounts and bonus rewards!  It's also good to point out that Yes 2 You rewards are not Kohl's cash, but CAN be used with Kohl's cash to bring your costs down.  
Also, if you are getting married, be sure to sign up for Kohl's Ever After Rewards.  You will earn 10% back in rewards for whatever is bought off of your Kohl's Wedding Registry!
Join the Kohls' Yes 2 you rewards for free here.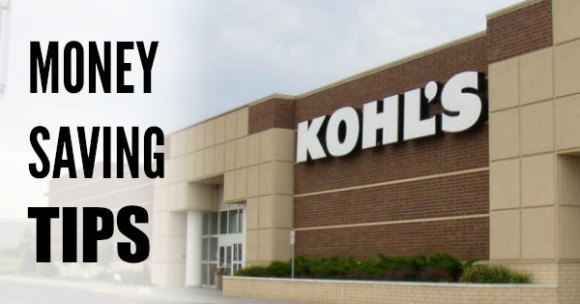 Price Matching
Did you know that Kohl's will price match a competitor ad?  This can only be done in store, so be sure to take a current competitor ad in when shopping.  Price matching can be used with other discounts we have talked about as well.
Kohl's Cash
Taking advantage of Kohl's frequent Kohl's Cash promotion is one of the most popular ways to stretch your shopping budget.  With Kohl's Cash promos you will earn $10 in Kohl's Cash on purchases of $50 or more.  This Kohl's Cash can be used later on during the next Kohl's Cash promotion.  
Also keep in mind that during Black Friday Week, Kohl's often offers $15 in Kohl's Cash with the purchase of $50 or more.  This is one of my favorite time to shop at Kohls!
Oh yeah, and here's a little known tip: You only actually have to spend $48 to get your Kohl's Cash, since it is rounded up as long as you are within $2! Woohoo!
Keep Your Receipts!
Kohl's offers price adjustments if the price of your item changes within 14 days.  Make sure you hold onto your receipts so that if you see that your item drops in price, you can get the difference returned to you. Now that is an easy way to save at Kohls. 
So before you shop at Kohls (whether online or in the store), make sure you use some of these money saving tips to help you keep more cash in your wallet this year. By the way, I love to shop online at Kohls and all of these tips will work with shopping online!
Check out more Money Saving Tips: