Today I wanted to talk about cutting newspaper coupons. It can be tedious, especially if you are getting several newspapers like my family.
As promised I finally got the video done for how I clip my coupons. It seems like such a  simple idea, but like me, many of you probably haven't even thought about it. This is an old video, so bare with me on the quality, but it is still very relevant. For years, I have cut my coupons this way and it has really change my Sunday evenings.
Also, before I forget, make sure you head Right now, because you can snag some great deals online for newspapers. Just go here and then type in your zip code to find the best deals on newspapers in your area.
There are discounts on all newspapers right now.
So… back to my post – I went to edit the video and realized I did a TERRIBLE job. You will have to forgive me. Instead of deleting the video, I decided to ad captions of me making fun of my self. My husband chuckled as he watched it so I am hoping you will to. If you have been to a Coupon Class, you know that I love humor! Without laughter, life would be boring, right 😉
So many people quit couponing, because they can't find all the time to clip coupons, organize, shop, etc… My goal is to keep you as a couponer -meaning to keep giving you tips that I have learned along the way so that you will save money for a lifetime!
I hope that you laugh a little but also learn a way to help save you time with clipping coupons. Make sure you leave a comment and let me know what you think.  Enjoy!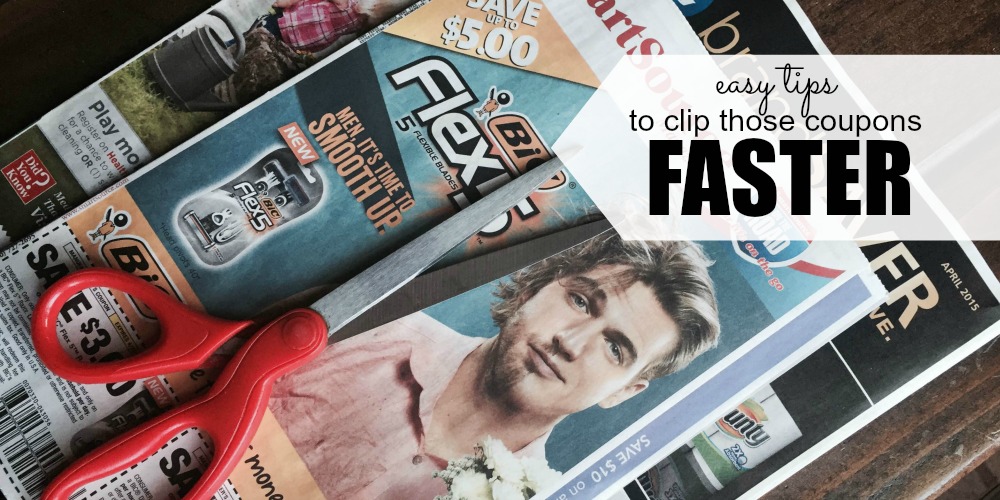 I'm slowly hoping to post more and more videos to help you save money. Make sure you subscribe to my youtube channel here.
How to Cut your coupons in HALF the time!
What about printable coupons?
Now, I'm not sure if you knew, but I use about 80% of printable coupons now. I love to print coupons because it is so easy and even easier to cut. Make sure you visit our coupons page for the BEST printable coupons right now.
Now to save time on cutting out those printable coupons, I use a paper slicer. I highly recommend one of them here. In fact, this is the exact one that I use (and it is on sale right now). Woohoo!
 More frugal posts to help you save time and money: