One Easy Money Saving tip to save 50% on Meat
I hope you have been enjoying this series on how to save on meat. Last week we talked about looking for packages that are marked reduced for quick sale. Make sure you check out that post here to help you save even more money. Today we are talking about another way to save money… Cutting your own meat.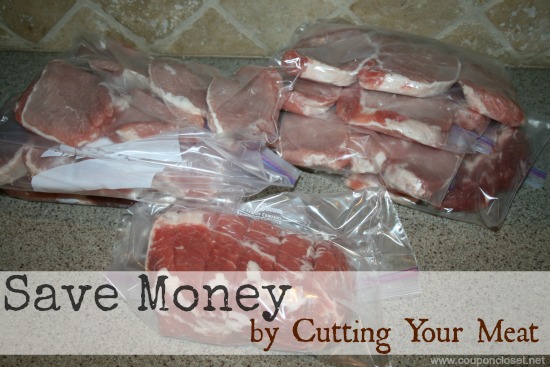 I was at Sam's a while back looking for pork chops for my family. Our family loves boneless pork chops but I was shocked at the price! Could they really be that expensive? I stood there stunned at the price, refusing to pay that amount, but curious what I could do.
MY LATEST VIDEOS
I then noticed the pork loin and it was almost half the price per pound than the pork chops. A light bulb went off. Could I just cut up my own pork chops and save more money? Why not? I snagged 2 pork loins at a much lower price and headed home.
I cut opened the package and went to town… literally!
The results… beautiful boneless pork chops at half the cost! I like it because I can control how thick or thin they are. I even saved some of one roast and left it as a roast for a crockpot meal.
I placed them in freezer bags (or you can use a foodsaver– that is what I use now) according to how many my family needs at one meal.
I saved 50% on my pork chops just like that.
You can do this for any kind of meat…
Don't stop with pork. Next time you are going to buy steak or brisket do the math and see if taking a few extra minutes will be worth the savings.
2 Helpful Tips:
Use a serrated knife – It will make it easier to cut
You can freeze it slightly. You don't want to freeze it all the way, but if you just stick it in the freezer for about an hour it will be a lot easier to cut.
What do you think… Will you be cutting your meat next time you buy?
More ways to save on Meat: