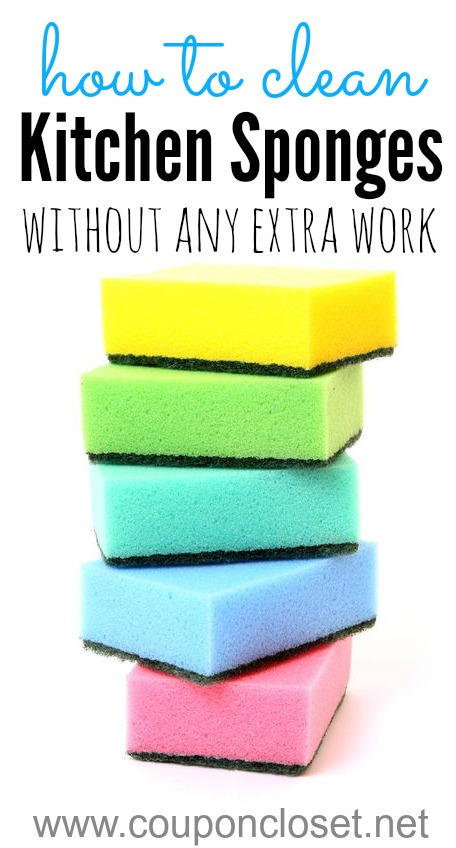 As many of you know, I am all about making life easy. From my number one stain remover tip to my EASY stove top cleaner, I like to make things easy around here.  The one thing I HATE but need in the kitchen is my kitchen sponge. However, if you think about it sitting there day after day just filled with germs and "nastiness", is it really getting your dishes clean? However, you can fix that problem in one easy step.
How to Clean Kitchen Sponge
Are you ready for this easy kitchen tip? Place your kitchen sponge in the top rack of your dishwasher when ever you run it. For my family, we run our dishwasher every night so in the top rack the sponge goes. The soap and the heat from your dishwasher will help eliminate all the "nastiness" that setting in your sponge.
Make it even easier by having two kitchen sponges. If you have two sponges, you keep one in the dishwasher and one in the sink. Then every time you unload the dishwasher, out comes the clean sponge and in goes the dirty sponge. You will never have to deal with a nasty sponge again. 🙂
If you search the internet, you will find a ton of different ways to clean your kitchen sponge, but I have found this to be the easiest and most effective way.
Now you can do this easy trick on any sponge you buy. Amazon has some very nice kitchen sponges here. You can even buy a pack for just $1 at the dollar stores.
It seriously is the easiest and the BEST way to clean your kitchen sponge. You hardly have to work at all. 🙂
Is there anything you do to make sure your kitchen sponges are clean every day?
With just a few ingredients, you can make this diy all purpose cleaner and start using all natural products in your home.
Make sure you check out some of our other frugal cleaning tips: