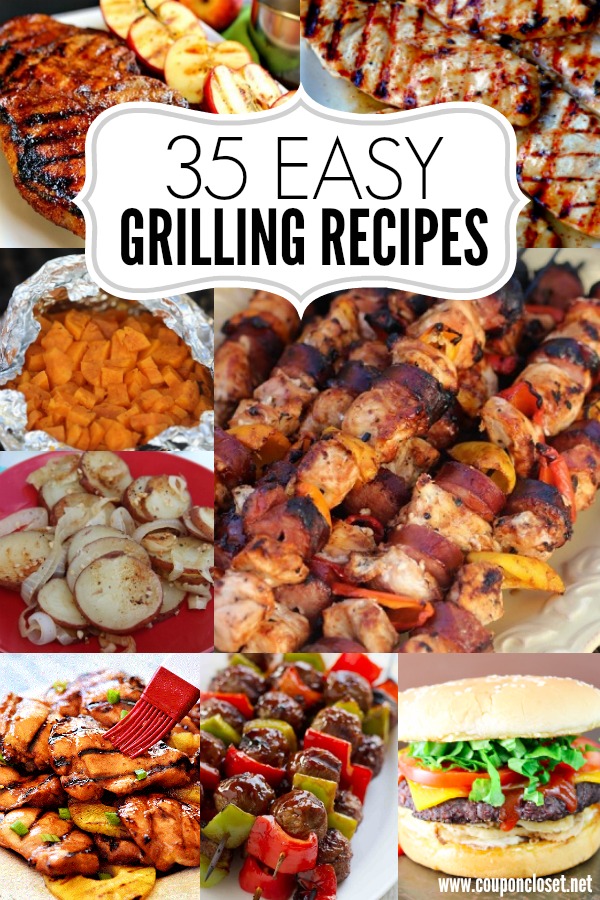 We love to grill! The food tastes wonderful and the kitchen stays clean! You will love these 35 easy grill recipes!
MY LATEST VIDEOS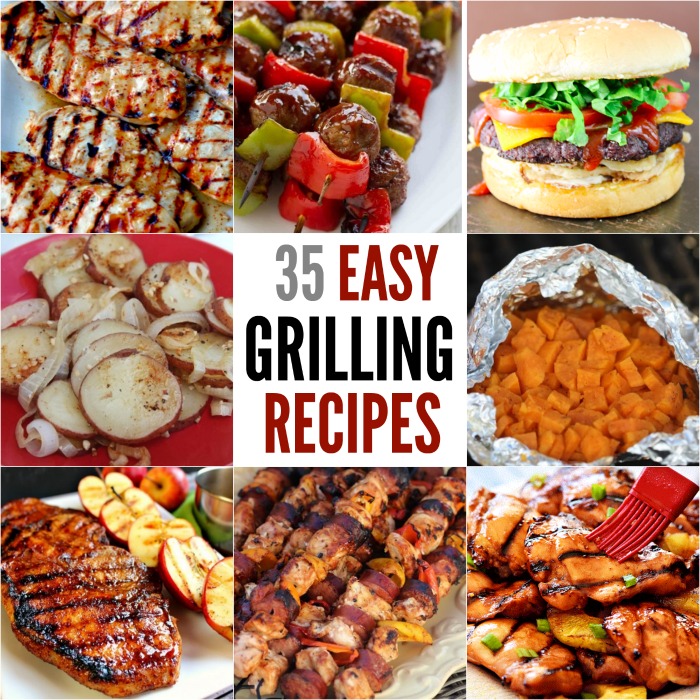 35 Easy Grill Recipes 
It's time to fire up the grill and get to grilling! Here are 20 easy grill recipes! Any of these recipes would be perfect for your next barbecue or grilling event!
We like to use these grilling mats. I bought mine on Amazon and they are great for keeping food from falling into the grill.
Quick & Easy Grilled Sweet Potatoes
This is one of my all time favorite grilling side dish recipes.
Grilling brussels sprouts brings out all those sweet, long roasting flavors!
Grilled (or broiled) Hawaiian Chicken Kabobs threaded with juicy, flavorful chicken and slathered with sweet and tangy Hawaiian Sauce (that doubles as a marinade) transports your taste buds to the tropics for the perfect summer meal!
Easy Grilled Honey Garlic Ribs
This is a simple, no-fuss recipe for honey garlic ribs that will make your taste buds do the happy dance.
This grilled salmon is not only healthy, but tastes amazing, and is very easy to prepare!
The pork chops are marinated in a dry rub and then brushed with some BBQ sauce right before we pulled them off the grill.
This chicken is superb! You'll be dying to fire up the grill.
These are so easy to make and the clean up is pretty much non-existent!
You must try these spicy wings. If you're not careful you might eat the whole batch.
The chicken in this recipe turns out so juicy and packed with flavor!
Bacon, Pineapple, Chicken Kabobs
Bacon wrapped chicken, bacon wrapped pineapple, and the smell of bacon and onion cooking together in a pan is pretty much to die for.
Sweet and Sour Meatball Skewers
These easy meatball skewers are made with frozen meatballs and sweet peppers and then basted with a simple sweet and sour sauce for a fast weeknight meal.
This Lemon Pepper Grilled Tilapia recipe is so easy it is hard to even call it a recipe!
Copycat Red Robin Whiskey River BBQ Burger
Fire up the grill for this Copycat Red Robin Whiskey River BBQ Burger! Don't let summer pass you by without trying this recipe!
Gluten free, dairy free and deliciously tender thanks to the delicious Asian chicken marinade.
Add some fiesta flair to burger night with this taco-flavored mini burger recipe.
There is no fuss and practically no work in making delicious grilled asparagus!
This is a simple, fun idea for your upcoming 4th of July weekend!
This is the easiest basic recipe on how to grill corn, but it tastes amazing.
Perfectly seasoned, juicy, delicious, and ready in under 30 minutes, making it the perfect dinner option any night of the week.
The spicy, salty, sweet combination of the creamy chili sauce is what makes them so good!
Foil Packet Bacon Ranch Chicken
You can toss this on the grill, a campfire, or you can bake it in the oven. Either way, it is packed with flavor!
These hot dogs are the perfect snack for camping or backyard fun!
Easy grilled shrimp basted with garlic butter. It's shrimp on a stick!
This recipe makes a TON. Perfect for a big barbecue or outdoor get together!
The orange and garlic flavors infuse the shrimp with deliciousness, making it moist and flavorful.
Herbed Corn on the Cob Grilled in Foil
No need to bring butter or salt this corn is seasoned to perfection.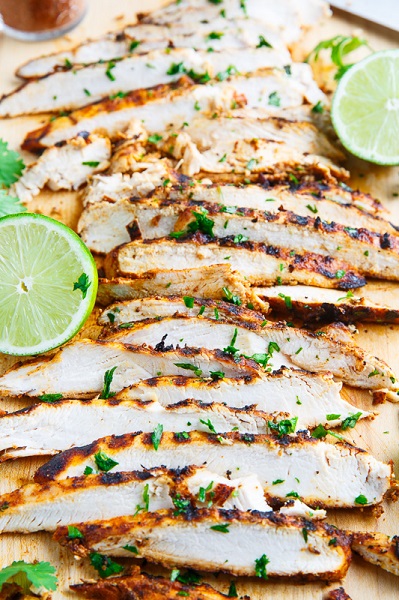 A quick and easy taco lime grilled chicken that's just packed with flavor!
This little packet is packed with flavor!
Grilled Balsamic Glazed Chicken
You don't have to sacrifice flavor for a quick dinner and this Balsamic glazed chicken does exactly that.
Take your favorite Aussie appetizer outdoors with this easy recipe for grilled blooming onion.
The marinade is super easy and what makes these kebabs so amazing!
These meal packs are so versatile that you can make tons of combinations!
Caramelized Brown Sugar Cinnamon Grilled Pineapple
This will be one of the most amazing sides that you grill this summer!
These easy tips make sure your grilled chicken breast comes out PERFECT every time!
You will love these easy grill recipes!
Let us know which ones you try. I have several on my list to try this month.

Try these other summer recipes: