Summer is hot and what better way to cool off than with these easy popsicle recipes. Choose from 40 homemade popsicles recipes to beat the heat. Plus, they are pretty yummy too!
MY LATEST VIDEOS
40 easy popsicle recipes for summer
We're dreaming of warm summer days with popsicles in our hands while we're laying by the pool! Store bought popsicles can be a little pricey, and usually don't have more than about 8 in a box. Now you can make your own with these easy popsicle recipes! We do this all the time and use these popsicle molds. We've put together a list of 40 delicious homemade popsicle recipes for summertime. They are so yummy, you won't want to stop eating them!
These easy to make homemade fudgesicles are perfect for a tasty cold treat, and they're made with only a few ingredients you probably already have on hand.
Healthy and made with only three ingredients, this is the perfect summertime treat to cool you off this summer.
With seven outstanding layers, these fruit filled rainbow popsicles are the perfect summertime treat.
These are full of flavor and do NOT drip!
Chocolate Chip Mint Greek Yogurt Pops
Packed with low fat and high protein, this chocolatey treat is sure to please.
With fresh strawberries and blueberries mixed into one delicious popsicle, these lemonade popsicles will be a crowd pleaser.
Raspberry Cheesecake Popsicles
I love cheesecake! These raspberry cheesecake pops are perfect for that cheesecake craving while keeping you cool on a hot day.
This watermelon popsicle recipe is so easy to make! You just have to try it.
Milk and Cereal Breakfast Popsicles
These healthy popsicles are the perfect way to start off your summertime mornings, and are great for taking on the go!
These fruit smoothies take all the perks of a smoothie, and turns it into a delicious popsicle creation with just five ingredients!
If you love Neapolitan ice cream, then you won't want to miss these Neapolitan popsicles. They're healthier than a scoop of ice cream, and they still taste delicious!
If you're looking for a sweet and healthy summertime recipe, look no further than these fruit pops. With only two ingredients, this recipe makes 16 delicious popsicles!
These sangria popsicles are perfect for your fourth of July party, or even just a get together with friends! Wherever you serve them, these boozy pops are a crowd pleaser for sure.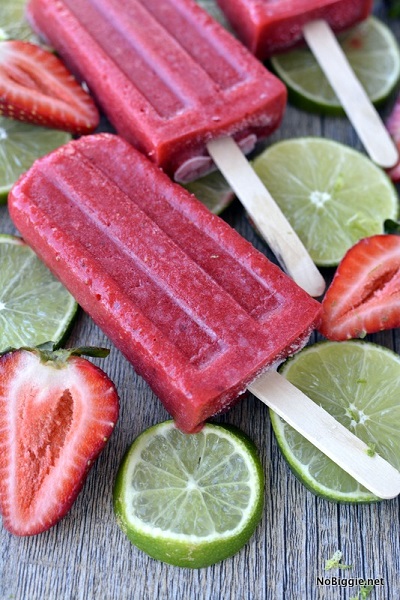 Three Ingredient Strawberry Popsicles
These strawberry popsicles are the perfect healthy treat for your summertime BBQ! They only take three ingredients and are much healthier than your store bought popsicles.
Raspberry and Coconut Milk Popsicle
If you are looking for a delicious and healthy popsicle recipe, you will love this one.
The kids have a blast making them and they taste delicious – especially after a 100 degree type of day!
If you love Disney's Dole whips, you'll love this copycat recipe.
Made with three simple ingredients (but so tasty) this is the ultimate popsicle for your whole family.
These two ingredient popsicles are a tasty way to cool off during hot summer days.
Cherry coke popsicles tastes exactly like the real thing, but in a fun popsicle form.
These fruit popsicles are addicting, you'll have a hard time eating just one!
Homemade Electrolyte Popsicles
Whenever you need an electrolyte boost, take out one of these popsicles from the freezer!
This Homemade Dreamsicle Popsicle recipe is so easy to make and super delicious!
Oreo Cookies and Cream Popsicles
Do you love to dunk your oreos in milk? Then you'll love this frozen summertime treat.
Power Smoothies Striped Popsicles
This fun striped popsicle is easy to make and can be customized for your own taste! You can even make this popsicle into a healthy treat!
Red White and Blueberry Popsicles
Show your colors this Fourth of July with these red white and blueberry popsicles!
These sour worm popsicles are so fruity and flavorful, they'll be a hit with your kids this summer.
These popsicles are perfect for the sweet tea lovers out there who want their fix on a hot summer day.
These cake popsicles have all the taste of a birthday cake wrapped up in a delicious popsicle.
These lemon pie popsicles are the perfect way to have your pie in a delicious frozen treat.
This healthy and delicious dessert is perfect for breakfast or whenever you need a sweet but healthy treat.
2 ingredient Nutella Cool Whip Popsicles are what you need to cool off during these hot summer days! Whip them together for a great frozen treat!
These watermelon yogurt pops are refreshing without the guilt!
All you need is fruit, chia seeds, and coconut water to whip up these hydrating pops.
These watermelon popsicles are delicious and the best part is they even look like watermelons too!
Coconut Peach Creamy Popsicles
These fruit pops are easy to make and packed with fresh fruit and coconut milk.
These adult popsicles are perfect for you to enjoy a drink outdoors and stay cool.
These margarita popsicles taste like real popsicles and not just like frozen liquor!
These family friendly pina colada popsicles are a great way to cool off your whole family with just three ingredients.
These delicious and healthy popsicles are perfect for your outdoor cookout, or even if you're just looking for a way to cool off.
Have you decided which easy popsicle recipes to try?
We have several on our summer list to make. The kids will be excited to help make them and I love that they are budget friendly. Many of the ingredients are things you might already have. Grab a popsicle mold and get started!
Let us know which homemade popsicles recipes that you make.
Try these other recipes and fun ideas for Summer here: