I have had several questions lately on how to save money on cheese. We don't find the best deals very often with our coupons for cheese. There can be great deals, but it isn't often enough to last my cheese eating family. So instead of relying on coupons, I buy our shredded cheese in bulk and then freeze it.

How to Save Money on Cheese
If you head to Sam's you will find the BIG bags of shredded cheese for as low as $11.30. (I think the price has gone up a bit since I took this picture, but it is a good price) Now, when I say BIG I mean they are 5 lbs of shredded cheese. We love cheese, but that is a big bag! 🙂 That means that you are paying $2.26 per pound of cheese.
However, the small packages you normally buy at Crest, Walmart, or Homeland are just the 8 0z size (which is a half of a pound). So… if we did the math our 8 oz packages of cheese would cost us just $1.13!
This is a GREAT deal, because cheese doesn't get that cheap very often. In fact, a sale can mean paying $2 or $1.50 per package. That means we are saving at least $.40 or more buy buying it in bulk.
We have been able to get shredded cheese for $1, but not often enough for my cheese loving family. 😉
The problem is… it is almost impossible to eat 5 pounds of cheese before it goes bad! So… do what my family does and FREEZE it. If you have a smaller family then you will need 10 quart size freezer bags so you can make your own 8 oz packages of cheese. If you have a cheese loving family then you will want 5 quart size freezer bags so you can freeze them in one pound packages.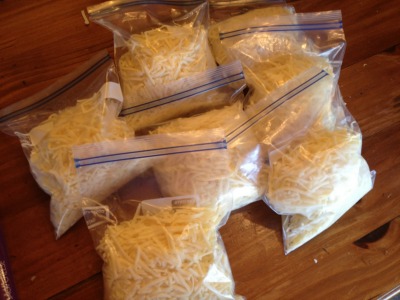 All you have to do is place the cheese in the freezer. Once they are frozen you can use them anytime. Pull out and place in the fridge about 24 hours before you need it. Or you can set it on the counter about an hour before you need it and your cheese is ready to use.
I especially do this with mozzarella cheese because it tends to be a bit more expensive and we need it for our homemade pizza night!
Since we are getting into soup season, we have often forgotten to thaw the cheese and we will use the cheese frozen. It melts instantly as it hits your soup. I know it sounds weird, but it still tastes amazing. 😉
Here are a few more helpful money saving tips:
Check out my other money saving and frugal tips here.
Let's Save money together! Do you freeze your cheese? Leave a comment and let me know.