Ok… I have such an intelligent way to save on flowers for your garden. We have a pool in our backyard and I have some big pots to decorate the backyard. However, it gets so expensive to fill them up with annuals every Summer. I tried to do perennials one year and they didn't come back, so that was a waste of money. I have accepted the fact that I need to fill them with annuals every year but I'm not willing to spend HUNDREDS of dollar each year to do it.
One day I was talking to my neighbor across the street and she was showing me her beautifully full flowers posts and I asked her for her secrets and she spilled it to me. So… I'm sharing it with you now! 🙂
How to Save on Flowers for your Garden:
Her secret to fill up her flower pots quickly and still save on flowers is to buy hanging baskets. Yep.. that is the secret. Not so amazing, right? Well… it actually is a nice money saving tip.
MY LATEST VIDEOS
You just take your flowers out the hanging basket and plant them in your flower pot. No need to break up the basket. Just carefully remove the flowers and plant them in your flower pots.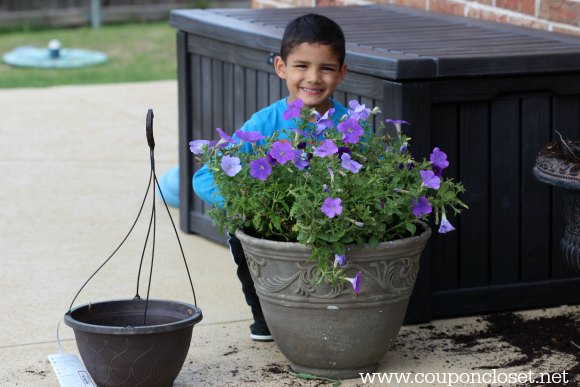 You INSTANTLY have beautifully full flower pots. No more waiting for the flowers to fill out and no more spending way to much money for flowers.
If you know me… I like life to be easy. I have 8 kids so I have to find a way to live a happy life without spending a ton of money or taking a ton of time on the little things. This just made my day. After about 15 minutes of work, my son and I had filled up 4 flower pots.
Let's compare the prices.
Last year, I filled 4 each flower pots and spent over $125. This year I bought 4 hanging baskets for $14.99 each. (watch for clearances, I found some last year for half off!) This year I spent  $59.96 which means I saved half off from last year.
The best part is my flowers already look better than they did last year and I took these pictures the same day I planted them. I just love looking out my back window at these beautiful flowers, especially knowing I saved money this year.
So now you know my new tip to save money and time on my flowers. You need to go plant you some flowers!
Learn 5 Ways to Save Money in the Garden.
Do you have any tips to save on flowers for your garden?
More gardening tips: