It's hard to believe that July is just around the corner and we have several 4th of July front porch ideas. You will love these patriotic outdoor decorations. So festive!
MY LATEST VIDEOS
4th of July Front Porch Ideas
Who is ready for Summer holiday decorating?! I love patriotic crafts and home decor ideas. Red, white, and blue decorations are perfect for Fourth of July, Memorial Day, or any other time you're feeling patriotic! If you are looking to find new 4th of July front porch ideas, you've come to the right place! Here are 12 front porch decoration ideas that will be perfect for patriotic outdoor decorations.
Patriotic Flag Mason Jar Lanterns– What a fun and inexpensive porch decor idea! All you need is a mason jar, a small flag (can usually be found at the Dollar Store), mod podge, sand and a candle. Not only inexpensive, but easy!
Patriotic Porch Pillows– How pretty are these flag pillows? You can find flag pillows at a variety of stores. Also, if you are a crafty person  you can get flag fabric and sew your own pillows. There is also some really cute printables available on her site to help spruce up your 4th of July decor even more.
Garden Inspired Patriotic Decorations– I love this rustic look for patriotic porch decor. Hang red, white and blue watering cans on your porch. I also don't see why you can't keep these up year-round. I would also suggest maybe hanging them all upright so you can use them as pretty hanging planters filled with beautiful flowers.
Wood Scrap Firecrackers– This is such a cute patriotic porch decorative idea! Do you have scrap wood laying around somewhere? I love how they are made to look like firecrackers.
DIY Patriotic Shutter– Shutters are such a fun way to add an extra rustic element to your home decor. I really like how you can paint them to fit any decorative style. This patriotic shutter is simply adorable added to the front porch! Another idea would be to paint the other side of the shutter with a neutral color pallet that you can use on your porch year-round.
Uncle Sam Flower Pots– This YouTube video shows how to make these fun American-themed Terra Cotta flower pots into whimsical patriotic decor for your front porch. I'm thinking this same method can be used to make a really pretty floral decorative piece to display year-round.
Firework Wreath– This is such a creative idea for a patriotic firework wreath. This looks like something the kids can help participate in, with lots of guidance of course. 🙂
Tin Can Windsocks– Here's another great craft idea to let the kids help with. You can use any old cans you have around the house. As an idea they used empty formula cans for their windsocks. This decor is simple and an easy way to add a lot of patriotic flair to your front porch.
Patriotic Clothespin Wreath– How cute is this wreath? I love how something so simple can add so much festive fun to your front door. All you need is clothespins, wreath frame, twine, star stickers and paint. My kids would love to help with this, too.
Pretty Porch Caladiums– Looking to spruce up your garden? Consider adding these pretty porch Caladiums to add some great color to your front porch. This picturesque front porch is an American dream.
Mason Jar Door Hanger– There are so many different things  you can do with Mason Jars. How cute is this American Flag design made with Mason Jars? These would be perfect to add near your front door on your porch. You could even hang them with wire and add flowers too!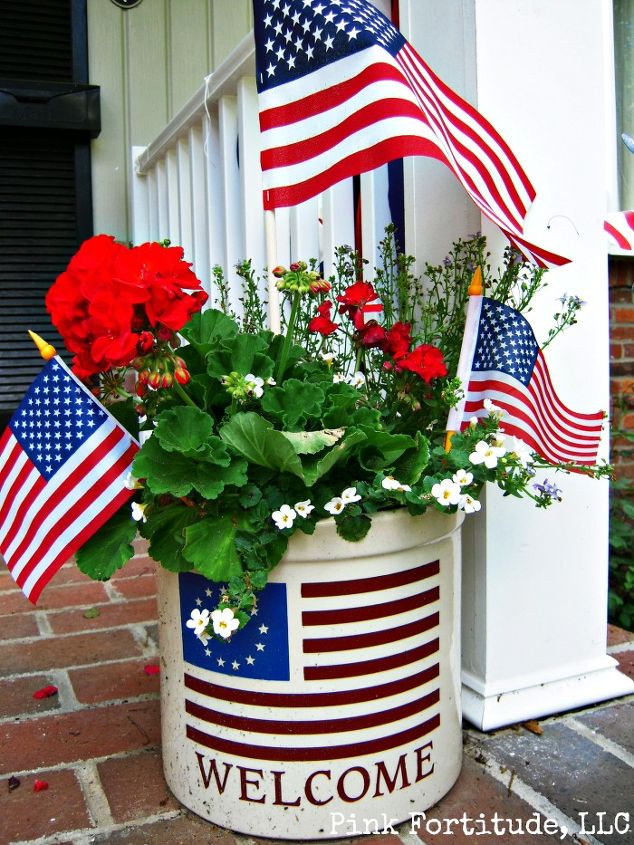 Patriotic Planter– How pretty is this patriotic planter? This not only perfect for welcoming your guests to your 4th of July party, but to welcome them year-round.
DIY Flag Bunting– Consider making your own flag bunting with this easy tutorial. All you need is a stiff cotton flag material and binder clips. See I told you it was easy!
DIY Wooden Fire Crackers– Here is another fun craft project to make Wooden Fire Crackers. This one uses round wooden fence posts, paint and rope.
How to make a wooden Flag out of a pallet– There are so many creative pallet crafts out there and this is definitely one of them. You can make this rustic wooden flag out of a pallet and paint. I want to make one! This would also be a nice addition to a home school or play room.
There are several 4th of July Front Porch Ideas that I'm going to tackle this month.
I just love making our house look festive with patriotic outdoor decorations. The pallet flag is one of my favorites!
Which patriotic outdoor decoration are you going to try?
Checkout more 4th of July ideas:
30 Mouthwatering 4th of July Recipes