Best Places to Sell Clothes for cash.
There is a common desire to sell things we no longer want or need, but figuring out how to go about doing so can be a challenge. If you're like most people, you probably have clothing you and your family don't wear anymore, whether it no longer fits or it's no longer your style. Since we have been talking about different ways to bring in extra cash today I wanted to talk about the Best Places to Sell Clothes.
Several options exist forgetting rid of unwanted clothing, and you can make a little money in the process.
Where to sell used clothes for cash:
1. Best places to sell clothes Online:
Sites like eBay, ThredUp, and Tradesy are the best places to sell clothes online. . If you're going the online route, keep in mind that the items need to be in great shape and relatively current. Learn more about selling clothes online here.
2. Consignment.
Most locales have a few different consignment stores from which to choose. Contact the stores and ask them what their policy is for selling clothing. Find out what their cut is and how much you receive, how they price, if there is a price reduction schedule, and if you get back articles that don't sell or if they are donated (some stores offer either as an option).
The upside to consignment is you will usually get a bit more money, but the downside is that itmay take awhile for your items to sell (if they sell at all).
3. Resale shops.
If you're looking to sell items outright, try resale shops. Stores like Plato's Closet take gently used women's and men's clothing, although they do look for recognizable brands. Kids' resale shops like Once Upon a Child accept gently used kids' clothing. With a little bit of strategy, you can maximize the dollars in your pocket. You may receive less per piece than you would at consignment, but you get the money right away versus waiting to see if the items sell.
The store takes on the risk, which has its benefits!
4. Garage sales.
If your neighborhood allows it, you might want to look into a garage sale if you have a lot of clothing and other household items you'd like to sell. Quite a few thrifty moms and dads still peruse garage sales to see what gems they can find for their families. A big perk is that you get to price your items and negotiate with the buyer, but a downside is the time and effort that goes into planning the sale if you end you with quite a bit that doesn't sell. However, make sure you advertise your garage sale for free on online site such as Craigslist and facebook groups.
5. Estate sales.
Unless you have a household of belongings that you're looking to sell, holding an estate sale is not likely an option for you. That said, if you have some nicer clothing, shoes, handbags, etc. that you're looking to sell, reach out to several estate sale companies in your area to see if they take pieces to add to other sales. If so, you will probably end up seeing a greater return than you would at garage sales or resale shops.
Used clothing buyers know that they can save some serious coin by buying secondhand. As the seller, if you know the different ways to go about selling your family's gently worn clothing, you can capitalize on those bargain-hunters who are searching for a deal!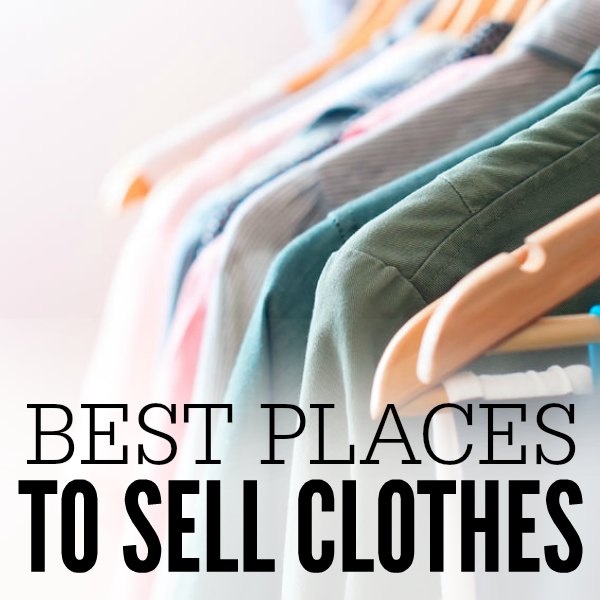 More ways to make money at home: