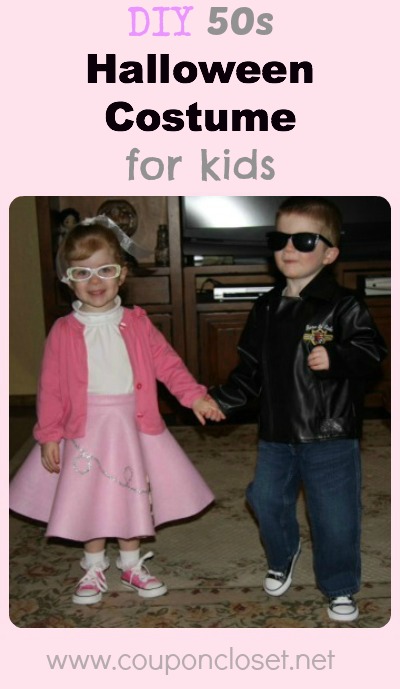 I hope you have been loving our posts on frugal DIY Halloween costume ideas. THanks so much to everyone who has e-mailed a picture. Today we are featuring Kristin's costume idea – 50s costumes.
I just love this costume idea. Head to your local thrift store and you might find a lot of these items, especially for the boy.  The Poodle skirt would be really easy to make. I found a great tutorial here to help you out. In fact,I woudln't even sew the edges. Felt is great and doesn't need to be hemmed! It is made with just felt and you really could make it with fabric glue. Now if you don't want to make a poodle skirt you could buy one for as low as $11 on Amazon.
For the girls you will need
poodle skirt (you could just add a cut our poodle to a premade skirt if you wanted)
tennis shoes
white shirt
cardigan
glasses (hot clue jewels on them to jazz them up)
For the boy you need:
Leather jacket (check the goodwill or ask your friends on facebook)
Jeans
Tennis shoes
Glasses
Some gel to slick back the hair
I am sure you have most of the accessories already in the closet.
Thanks so much for sharing Kristin! You are awesome!
What are your kids going to be this year? Are you going to make it?