I am so excited to announce that I have now created a Meal Planning chart that you can now download and print for FREE.
Do you plan your meals?
We do and it really can save you some cash. I created this a LONG time ago, actually years ago, when I first started Coupon Closet. However, it was pretty ugly and basic. I have now created a very pretty one, with the same functionality as the the original one.
This Meal Planning Chart will save you money.
As most of you know, I think Meal Planning is pretty crucial if you are serious about cutting down your grocery bill. I once thought that menu planning would destroy my creativity in cooking. I thought that meal planning would ruin dinners as we speak, but after I started creating my menus I have learned otherwise. Menu planning has actually allowed my family to explore other options instead of our "usual" throw-together dinners.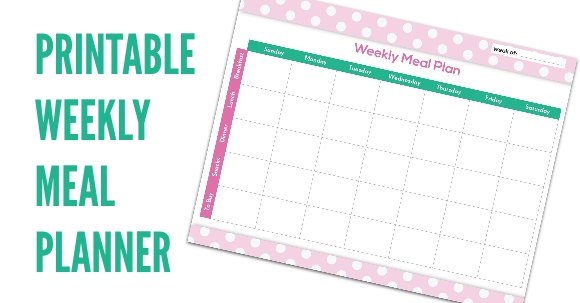 Not only are our dinners better, but we are also saving money by not having run to a drive-thru on nights that I didn't have dinner ready. There are no more standing in the kitchen at 4:30PM wondering "What should I make for dinner?" I feel so FREE on week's that I have a menu ready to go.
By the way, did you know that I also offer several FREE Menu plans on my other site? Make sure you check the free menu plans! 
This printable weekly menu planner  is a PDF file that you can just print out and use it week. This is awesome because you can even create your shopping list at the bottom. Create your menus and decide what you are going to need to save money.
Printable Weekly Meal Planner – download here
So How do you use printable weekly menu planner?
It is so simple. Every Sunday you just sit down and plan your meals.
Remember to keep your pantry and your freezer in mind when filling in your meals. Use that stockpile to help you save money that week.
Then in the bottom section for each day you will write in the food that you will need to buy in order to complete your meals.
It is that easy! Now you have your shopping list for your "need" items. I am sure that your "need" is probably alot smaller than you thought.
Now head to the store, to buy those few items that you need.
Then all your coupon shopping will only be for those cheap, free and nearly free items to restock your pantry.
Remember, just because you say you planned to have enchiladas on Wednesday you don't have to. This is to make sure that you have all the food to make a full week's worth of foods. You can easily switch days if you need to.
Maybe you forgot that your kids have a T-ball game on Thursday, so you would rather have pizza that night instead of Friday night. The point of the form, is to help you decide what groceries you actually need that week instead of overpaying at the grocery store because you bought more than you actually needed.
Plan your meals easier with this printable weekly meal planner.
As you keep couponing, you will notice that your "needs" will get smaller which means your grocery budget will get smaller. If you haven't yet, make sure you check out our Stockpiling post. What is a stockpile and why you need one.  That will help explain how you can save money by eating out of your pantry. 

Also… have you read my post on 8 tips to saving money on groceries my menu planning? It is a great one that will help you see how this will save you money.
So… What are you waiting for? What are you going to eat this week?
Do you think this Online Menu planner template will help you with you plan your meals?
Saving Money on Groceries by Menu Planning is a huge way to reduce the budget. Learn 8 tips to save big!
More money saving tips:
Saving Money on Groceries by Menu Planning
What is a stockpile and why you need one
SAVING MONEY ON GROCERIES – Everything you need to know