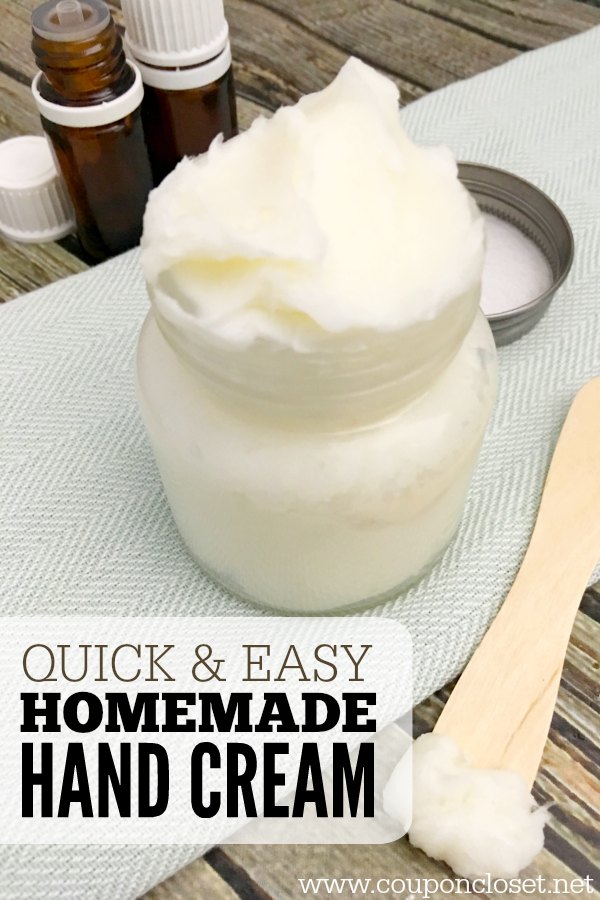 I'm so excited to share with you this homemade hand cream. My hands get so dry. Like crazy dry. Probably from all the dishes that I do, so I decided to make my own homemade hand cream. I think I decided to do it because it seems like all the hand creams out there just relieve your hands temporarily but they never actually help heal the hands. This natural lotion isn't like that at all. It actually helps heal the hands and it is super easy to make.
The best hand lotion you can make at home.
I have tried a few different lotion recipes and this is by far the best hand lotion that you can make. It smells amazing and it has very little ingredients which makes it ideal if you are trying to save money.
You might also want to try DIY Shaving Cream for Women. It's so moisturizing!
Ingredients
How to make Homemade Hand Cream:
1. Measure and scoop your Shea butter into a large glass measuring cup.

2. Add in your sunflower oil.

3. Set in the fridge for about 30 minutes or until hardened.

4. Use a hand or stand mixer to whip your mixture for about 15 minutes.

5. Add in essential oils and mix again.

6. Transfer to a clean jar 4oz jar.
Make this natural lotion today.
I told you it was super easy to make. This natural lotion smells amazing and feels so great on your hands. I can't wait for you to try this homemade hand cream.

If you have ever wondered how to make lotion, this simple DIY lotion is very easy to make and works great to restore moisture to dry skin.
This Homemade Deodorant Recipe is very simple to make and you know exactly what is in it.
Try some of these other DIY projects: