There is nothing like a cold drink in the summer. Whip up these kid friendly frozen drink recipes for a fun way to beat the heat. They are quick and easy and so good!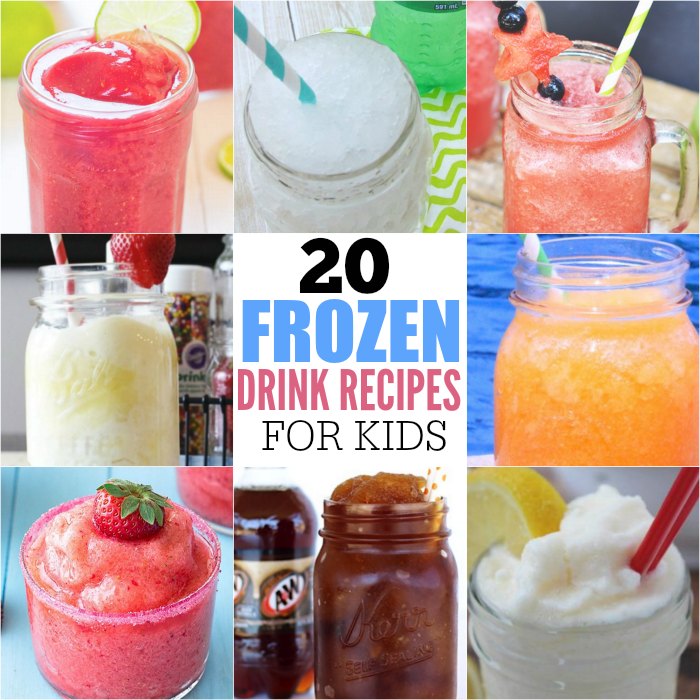 MY LATEST VIDEOS
20 Kid Friendly Frozen Drink Recipes
I love laying in the backyard and relaxing with a cool frozen drink during the summer months. Whether you want a smoothie, slushie, slurpee, or even an ice cream float, you need to try one of these frozen drink recipes this summer.
Homemade Slushie Floats– They are refreshing and tasty and a fraction of the cost of a Slurpee or Dairy Queen.
Frozen Strawberry Lemonade– This frozen strawberry lemonade is so easy to make, full of fresh strawberries and tart lemons. Not too sour or too sweet, just perfect!
Yogurt Strawberry Banana Smoothie– Made with Greek yogurt to pack an extra protein punch for your kids!
Frosted Lemonade– This is a great summertime frozen drink recipe, or you can make it any time of the year!
Triple Citrus Slushie– Get ready to pucker up with this delicious triple citrus slushie.
Blueberry Spinach Smoothie– Spinach is so healthy for you and I love adding it to my smoothies. It blends up nice and smooth. Plus, when it's blended up with a fruit like blueberries, it is even undetectable for my kids.
Frozen Pineapple Drink– This delicious  pineapple drink is Disney inspired and sure to be a hit with your kids this summer…or anytime.
Frozen Hot Chocolate– These frozen hot chocolates are the perfect way to cool down on a summer day and so tasty!
How to Make a Slushie with Kool-aid Mix– How refreshing does this slushie  made with Kool-aid look?! I want to try out all the flavors!
Watermelon Raspberry Slushies– The refreshing slushies combine two of my favorite summer fruits, watermelon and raspberries. A bit of lime juice adds a zingy twist.
Sparkling Strawberry Slush– This sparkling strawberry slush is the perfect summer drink – it's so tasty and refreshing and is a favorite with both the kids and the adults.
Low Calorie Slushie Recipe– Craving a cold sweet drink without all of the extra calories? Make this slushie that only has 5 calories a serving!
Copycat Wendy's Frosty– This CopyCat Wendy's Frosty Recipe is so simple and is great for having a cold treat at home.
DIY Slurpees– This would be a great project to do with the kids during summer break, and the whole science behind it would be a fun idea for older kids to research.
Homemade Frosted Coffee– This is the perfect frozen treat for summer mornings.
Watermelon Key Lime Slushie– This drink would be great to serve up at a barbecue, wedding, birthday party, and even baby shower!
Quick and Easy Strawberry Slushie Recipe– Adults and kids alike will love this easy slushie recipe! I love that it uses strawberries and ginger ale.
Root Beer Slushie– Get ready for some ice cold nostalgia when you make this super yummy Root Beer Slushie Recipe!
Copycat Grape Nerds Slushie– If you like nerds, you need to try this slushie!
Salted Watermelon Slushies– These slushies are perfect for an outdoor gathering when the heat is on!
Cool down with these kid friendly frozen drink recipes!
These all look so good it will be hard to choose which one to make first.

Try these other kid friendly ideas: