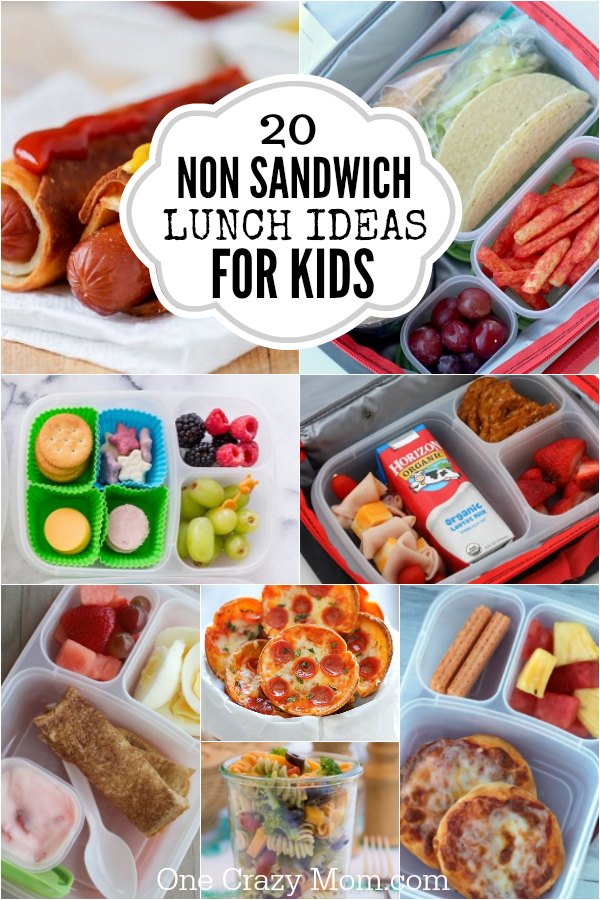 Are your kids tired of sandwiches every day?  Try these 20 non sandwich lunch ideas for kids that they will love! Adults might like these too 🙂
MY LATEST VIDEOS
20 Non Sandwich Lunch Ideas
It doesn't take long for sandwiches to get boring. They're fine every once in awhile, but sometimes we need to spice up our lunch. Here are 15 great non sandwich lunch ideas for kids when you're looking for something more fun than the classic pb&j.
We have lots of ideas even for the really picky eaters 🙂
Why spend tons of money on store bought lunchables when you can make them at home? Make your own that are kid friendly and put all the things they love inside.  You can easily make up a batch for the entire week.
Use a skewer to layer turkey, cheese and veggies! Everything is more fun to eat on a skewer and kids love bit size pieces.
The grapes add a sweetness to the chicken salad that kids will love. Pack a few crackers for dipping and lunch is served!
Cheese and pepperoni are packed inside for a delicious lunch that kids will love.  You can easily make these with the pizza toppings kids prefer.
Make salads fun by putting them on a stick! Layer chef salad items such as eggs, cucumbers, cheese and more for a tasty lunch kids will actually eat!
Hard Boiled Eggs with Cinnamon Sticks
Hard boiled eggs are quick, easy and full of protein. Add yummy cinnamon sticks and yogurt for a lunch kids will ask for over and over!
This pasta salad is full of veggies and colorful pasta. Kids will enjoy eating this "rainbow" pasta.
Kids won't know these muffins are packed with healthy zucchini. It will be our secret 🙂 The apples make this so moist and tasty!
Tortilla's turn an old classic into a new twist! These are easy for kids to pick up and eat and pretty yummy too.
Make this dish ahead and put in the freezer for busy mornings! Serve it for the kids lunches and adults as well!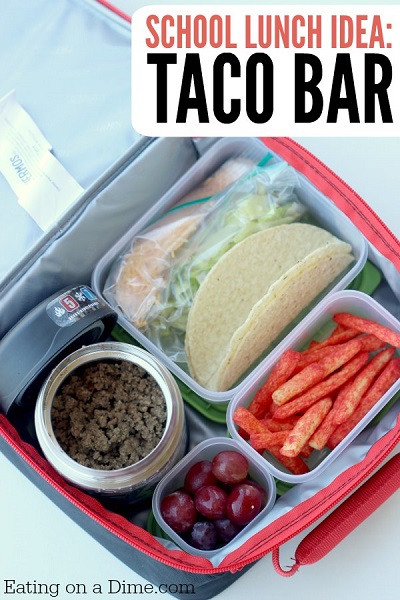 Taco bars are perfect for lunchboxes. Use little containers for the toppings and a thermos keeps the taco meat warm.
Miniature pizzas are a hit in kid's lunchboxes! Kids love having their own personalized pizzas.
Think outside the box by packing egg rolls for lunch. Kids will be thrilled when you pack a sauce for dipping.
Yum! Creamy mac and cheese is always a good idea! We use a thermos to keep it warm for lunch.
Kids love pizza and moms will love how easy this is by using biscuits. Add a side of fruit and a treat and lunch is complete!
Turn a classic tomato sandwich into something even better with cream cheese and a croissant. Yum!
Deviled eggs are full of protein and kids love these bite size lunch foods!
There is a surprise in these muffins! Hide hot dogs inside to make corn dog muffins kids will love!
Combine mango with chicken tacos for an instant winner at lunchtime!
Turkey Sandwich Crescent Rolls
Everyone loves crescent rolls. Wrap turkey inside for a quick and fun lunch. Serve with fruit and veggies for a great lunch.
All of these non sandwich lunch ideas for kids look delicious!
You may want them in your lunch too!
More back to school ideas here: