We have so many yummy 4th of July Drink Recipes that you can try. Choose from 25 fourth of July drinks that are so easy and fun.
I love all the red, white and blue!
4th of July Drink Recipes
Choosing Fourth of July drinks is easy with these 4th of July Recipes. Although we may not be Martha Stewart, we are still capable of putting together awesome and tasty themed 4th of July drinks!  If you're looking to put together a fun drink for Independence Day check out these 25 Fourth of July drinks you won't want to put down!
Red White and Blue Sangria– This not only looks festive but refreshing! I love how they cut the pineapple into cute star shapes, too.
Red White and Blue Cocktail– This is a chic modern twist on a Fourth of July drink. I love the layered look to this cocktail.
Layered Punch– This fourth of July layered punch uses Sobe Pina Colada, Hawaiian Punch Polar Blast and Powerade Zero Fruit Punch. Yum! Learn the art of making this layered punch so you can entertain your party guests in true American style.
Red White and Blue Non Alcoholic Drinks– This is a fun non alcoholic drink that both kids and adults will enjoy at your 4th of July party. I think my kids would love to help me make them to learn about the science behind what creates the layers in the drink. Plus, I'm sure they wouldn't object to the all of the yummy sugary sweetness. 🙂
Red White and Sparkling Blueberry Punch– Now this is a drink I can get behind! I love the sparkling IZZE drinks and it's great how this drink takes it up a notch by adding delicious strawberries and blueberries. Such an easy way to add a festive twist!
Razz White and Blueberry Smoothie– Here's a healthier way to celebrate your 4th of July. I think the kids would love this for July 4th breakfast, too. What a great way to start the holiday off right with blueberries, raspberries and bananas.
Red White and Blue Punch– This is another fun layered red white and blue punch that's perfect for the kids. This one uses Gatorade, Cranberry Juice and Mandarin Orange Sparkling water. Yum!
Blueberry Mojito– I'm so happy that blueberries are in season. Not only are they more sweet but they can be found just about anywhere. This blueberry mojito is one way to use up all of those yummy blueberries.
Kid Friendly Patriotic Punch– Here is another kid friendly option to choose from. I love the addition of using a Twizzler candy as a straw! I think a red licorice would work perfect too.
Strawberry Lemonade– This is a simple yet delicious party drink. You can never go wrong with Strawberry Lemonade on a warm summer night while watching the fireworks.
Red Wine and Blue Spritzer– This surprisingly simple drink uses white wine, white soda and it gets its patriotic colors from frozen cherries and blueberries.
Red White and Blueberry Margaritas– This festive margarita uses frozen strawberries, coconut milk and frozen blueberries. Just layer it in a fun glass and you have yourself a yummy drink!
Citrus Splash– This looks like a entertaining drink. How fun is it that they used pop rocks along the rim of the glass?
Patriotic Frozen Drinks– Need a way to cool down this 4th of July? Whip up one of these yummy frozen drinks and enjoy it poolside.
Patriotic Ice Cream Sodas– These ice cream sodas look phenomenal and I bet they taste as good as they look, too! To get the fun colors all you have to do is change up the variety of soda used.
Fourth of July Milkshakes– This recipe had my attention as soon as I read the word milkshake. 🙂 Okay, the added whipped cream and sprinkles certainly makes it more appealing as well. I don't know any kid (or kid at heart), that would object to this.
Raspberry Lemonade– How cute are these drinks? The colored sugar on the rims is a nice festive touch, too. All you need is mashed raspberries, lemon juice, water and sugar. So easy! I'm thinking I'll made this before the fourth of July, you know…for practice. 🙂
Red White and Blue Pina Colada– Pineapple, coconut and strawberries…oh my! You can't beat the combo of pineapple with coconut. You'll be having a tropical 4th of July with this drink in no time.
Red White and Blue Sparkling Juice– This is like a 4th of July snack in a glass. I can see myself downing the ginger ale and then eating all of the fruit immediately after. Simple and delicious, what more could you ask for?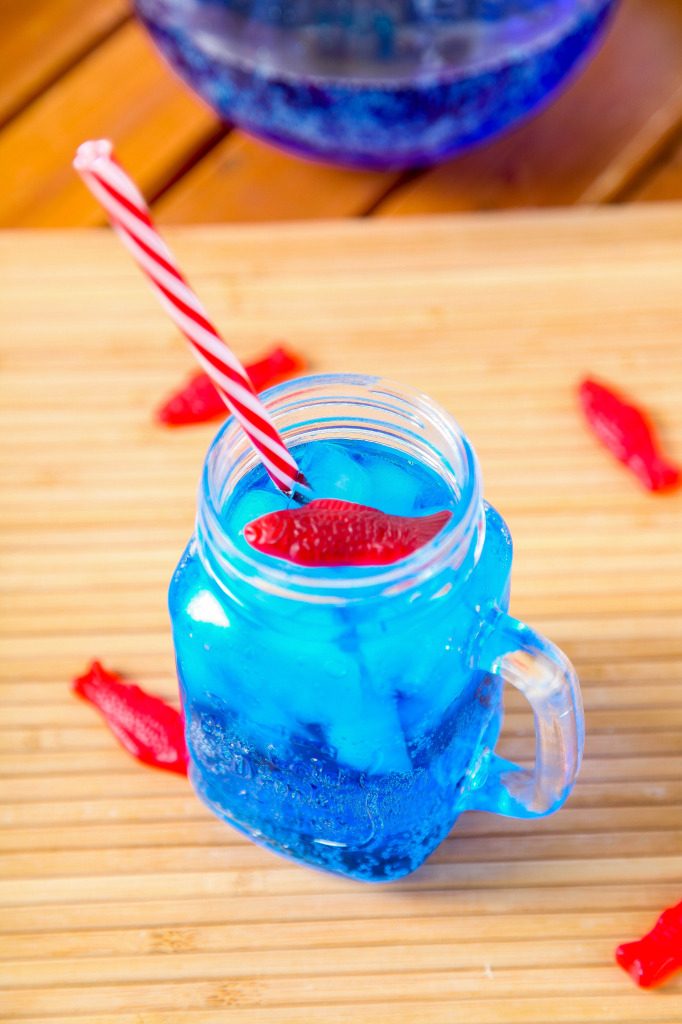 Copycat Sonic Ocean Water– How pretty is this? Not only would it be perfect for July 4th, but any pool party this summer could use these fun drinks.
Fourth of July Sparkler– This lovely drink uses Rosé Champagne, club soda and berries. Are you noticing a berry theme throughout this post? Well you can't go wrong with berries. The more the merrier I say!
Red White and Blue Daiquiris– These daiquiris use frozen lemonade and lime aid. I like the idea of a refreshing lime flavored drink on a hot summer day. A bonus is that you can make these ahead of time and freeze a day or so before the party.
Fourth of July Layered Drink– This layered drink version uses white Powerade, Cran-Apple juice and Blue Gatorade. The colors magically stay separated due to the varying sugar content in each drink. Pretty cool, huh?
Red White and Blue Drink– This drink is worth checking out as well. It uses Cran-apple juice, Sobe Elixir Pina Colada and Blue G2 Gatorade. Plus, the instructions are straight-forward and easy to follow, too.
Watermelon Lemonade– Yum! I love all things Watermelon. Watermelon juice is probably one of the most refreshing things ever. Combine that with Lemonade and you have yourself a winning summery drink perfect for the 4th of July!
There are so many yummy recipes choosing only one 4th of July drink recipe will be hard!
I love all the fresh fruit in the patriotic themed 4th of July drinks.
Which fourth of July drink will you make?
There is nothing like a cold drink in the summer. You can also whip up these kid friendly frozen drink recipes for a fun way to beat the heat. They are quick and easy and so good!
Check out these other 4th of July ideas:
15 Quick and Easy 4th of July front porch ideas
30 Mouthwatering 4th of July Recipes