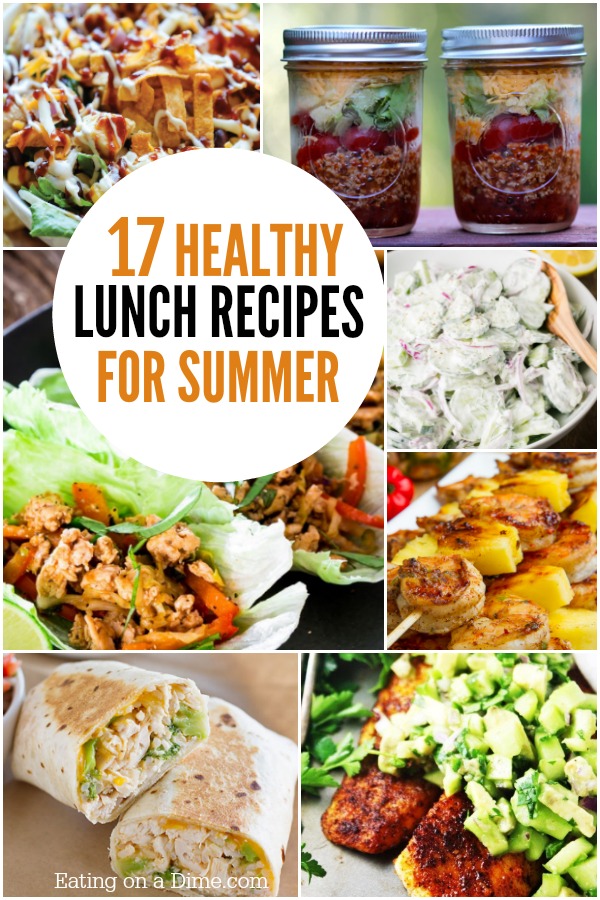 Summer is here and if you're looking for healthy lunch recipes, we have a ton! The perfect summer lunch recipes to get lunch on the table fast.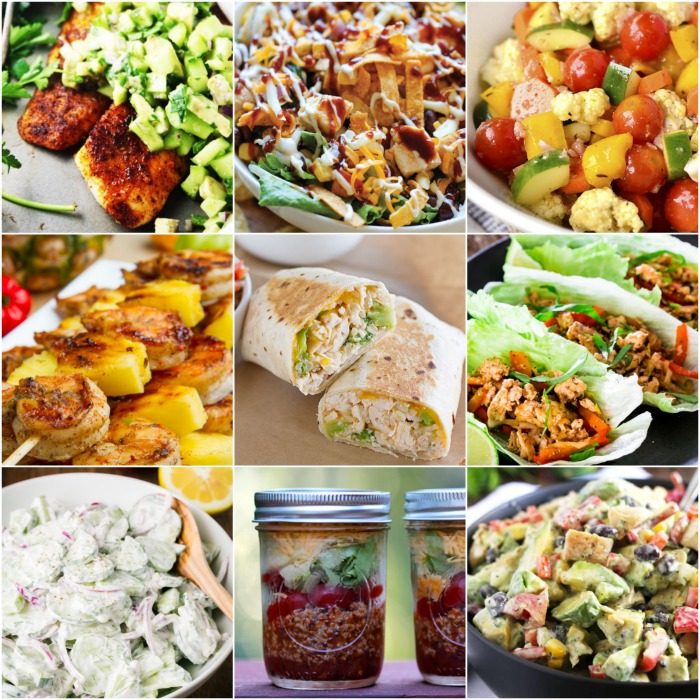 Healthy lunch recipes
Summer lunch recipes don't have to be a boring sandwich. We have lots of healthy lunch recipes that the entire family will love. These are quick, healthy and best of all budget friendly! I can't wait to try some of these new ones.
Blackened Tilapia with Cucumber Avocado Salsa
The combination of the crispy, blackened fish and fresh, bright salsa = the PERFECT BITE.
The Best Crockpot Chicken Tacos Recipe
These are the best chicken tacos and they are so easy to make. Only 3 ingredients!
Crock Pot Chicken Caesar Sandwiches
These Crock Pot Chicken Caesar Sandwiches are a snap to make, and the homemade Caesar dressing is packed with protein!
Balsamic Chicken Avocado Caprese Salad
Traditionally, Caprese salads do not contain any balsamic vinegar, avocados, or chicken, but that has changed to make way for this bowl of epic flavours.
This grilled chicken avocado salad is topped with homemade jalapeno cilantro dressing. It is the perfect easy summer salad, and great for quick lunches!
This simple and inexpensive salad is delicious. It's the perfect compliment for any BBQ, family gathering or summer snack.
This healthy version of the classic taco salad is delicious and perfect for a quick summer lunch to go.
If you're looking for a healthy alternative to mayo-laden tuna salad, this Mediterranean tuna salad is sure to please.
Grilled Jerk Shrimp and Pineapple Skewers
Hot and spicy jerk shrimp along with sweet and juicy pineapple on a stick is a fabulous combo!
Marinated Vegetable Salad is a healthy, make-ahead salad recipe highlighting crunchy summer vegetables. Quick, easy, and fresh!
Quick and Crispy Vegetable Fritters
if you have 25 minutes and a handful of pantry and fridge staples, you have the easiest and tastiest way to eat your veggies: Quick and Crispy Vegetable Fritters.
These Thai-style lettuce wraps will please your taste buds, super healthy and delicious.
This German cucumber salad is easy, creamy and good.
20 Minute Lemon Broccoli Pasta Skillet
The broccoli and spinach keep it healthy, and the garlic, lemon, and red pepper make it extra tasty.
This healthy, flavorful salad comes together so quickly and easily, and it is guaranteed to be a hit with your entire family!
Easy and quick yet tasty and healthy avocado toast with cucumber and basil leaves.
Chicken and Broccoli Grilled Burritos
In a rush? These grilled burritos filled with chicken and broccoli are done in a flash and are family friendly!


These healthy lunch recipes should give us plenty of menu plan ideas for this summer.
I love quick and easy meals that are also healthy. The Cucumber and Onion Salad is a big hit in our family. So inexpensive and easy.
Which summer lunch recipes do you plan to try?

Check out more quick and easy recipes:
30 Mouthwatering 4th of July Recipes