It is Day 2 of our Homemade Christmas Ornaments series. Yesterday we made Mason Jar Ring Wreath which was super easy and adorable to make. Today's homemade ornament is even easier! Get the kids involved on this washi tape cookie cutter ornaments.
Today I find vintage metal cookie cutters at yard sales and thrift shops all the time, only they usually have a nice patina of rust on them. These are not so good for pressing into food, but they can be picked up pretty inexpensively. Plus that same layer of rust and time can make for a beautiful vintage decoration on your tree. Add a touch of washi tape to brighten them up a bit and they are really eye catching.
Now if you can't find any old cookie cutters, that is ok. You can get some for really cheap on Amazon.
Supplies: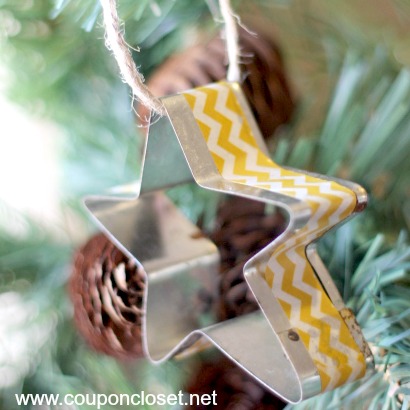 Directions:
Sprucing up your metal cookie cutters with washi tape is pretty straight forward, you can cover them completely or add one stripe around the middle. I personally like just the one stripe.
Wash cutters and dry well to remove loose rust.
Wipe them down with a cotton ball soaked in alchol to remove oils and create a clean surface for tape to adhere to.
Pick up traditional Christmas colored washi tape or use unique colors to mix modern and vintage together.
Tie on a hanger using twine or ribbon.
Aren't they all adorable?
So the next time you are browsing in the junk shops don't pass over that bag of metal cookie cutters. Instead, bring them home and give them a new life on your tree ­or tie them on to swags, packages, or wreaths.
Surely you can make this homemade Christmas ornament with the kids this year!