My family loves to do crafts together especially around the holidays. Anyone else loving all these frugal Homemade Christmas ornaments? These little Bottle Cap Snowmen are an adorable craft to make with the kids.
Making stuff together is an awesome way to save the memories of a Holiday season without spending much money. Plus, this ornament is super easy to make! They can be used to hang around the house or you can use them as ornaments and hang them on the Christmas tree.
These little snow men are affordable and definitely worth making!
Supplies needed:
Bottle Caps (We have these on hand, but you can buy them cheap at Hobby lobby if you need to)
White Spray paint (if you are using used ones, but they are white if you buy them)
Felt (already had laying around but you can get a small piece cheap at Hobby Lobby, Micheal's or Joan's)
Colored Sharpies (we have these too, but check your Walmart)
Hot Glue Gun (Be sure to supervise and help the kiddos so they don't burn themselves on the hot glue!)
How to Make a Bottle cap Snowman Ornament:
1. First spray paint your bottle caps white. I would make sure to do this ahead of time, because kids will HATE waiting. 😉
2. Next, you just need to take your bottle caps and put your face and buttons on! You can choose to add your name and year if you would like, I think it adds to the memory of making them! Let the kids do this. It will be fun to see what they come up with.

3. Cut your felt into thin strips for your scarf.
4. Then take a red or other holiday color piece of ribbon and glue the top into a loop! Then Glue your bottle caps onto the ribbon. You can choose to leave a gap in between the caps if you would like! I would HIGHLY recommend leaving a bigger gap in between the first two to leave room for the scarf.
5. Finally, add the scarf and glue it in the middle to make it look as if it is wrapped around the snowman's neck!
You're all done! This is a very easy craft that the kids will love to do together. Then every year when you pull them out to hang on the tree, you can talk about how much fun you had making them.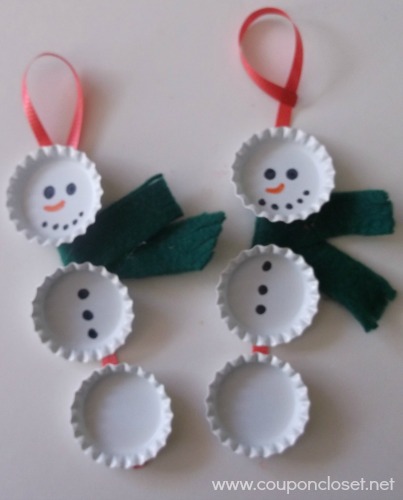 If you are looking for some clever (and easy) ornaments that you can make on your own, we've rounded up over 30 Easy Homemade Christmas Ornaments.
Remember, making memories doesn't have to be expensive!
Check out all our other Homemade Christmas ornaments posts.