Have you seen crafts done with Scrabble letters? They are all over Pinterest and I just love them. There is something about the simple yet clean look of the letters that is hard to resist. In light of our 12 Days of Homemade Christmas Ornaments series, I thought I would show you how to make a homemade Scrabble letters ornament. You are going to love how easy this is!
Supplies:

I actually found this Scrabble game at the Thrift store for $1.99, but this color was half off so I just paid $1. It is in pretty rough shape, but it is perfect to make some beautiful ornaments!
Directions:
These homemade Scrabble letters ornaments are VERY simple so you might want to read slowly so you don't miss anything.
Decide what you would like to spell on your ornament. I was going to go with "Joy" or "Believe" but I was using letters from a travel Scrabble game so I decided to spell something longer. I went with Merry Christmas. If you are wondering where to find Scrabble letters, you can find them on Amazon. I actually found the Travel Scrabble game at a thrift store for just $1, so be sure to look there, too.
Once you decide what you would like to spell, simply hot glue the letters together. It only takes a tiny bit of glue to get these letters to stick together.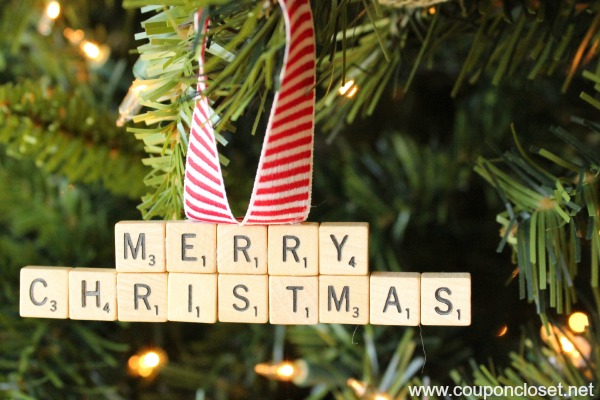 Take a loop of ribbon for your ornament hook. I glued it to the back and then also to the top of the letters. If you don't put a tiny bit of glue on the top, your ornament will lean forward when you hang it on your tree.
That is it! I told you it was easy. You can change this up any way you would like – you can personalize these with family or individual names or create any word you'd like. The possibilities are only limited by the letters you have.
Go create your homemade Scrabble Letters ornament today!
Check out all the Homemade Christmas Ornaments here.