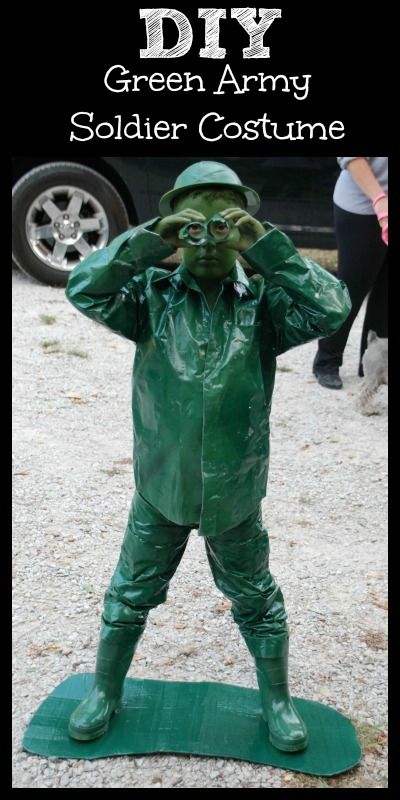 Have you been loving all the DIY Halloween costume ideas? I know I have. I just LOVE, LOVE, LOVE the Green Army toy idea that reader, Lisa e-mailed me.
Isn't it just the most creative costume?
What do you need to make this costume?
Elastic waistband pants
Button up shirt one size too big
rain boots
a safari hat
piece of cardboard
duct tape
spray paint
two toilet paper rolls
Most of those you can snag at your local thrift store for cheap! Rememeber, it is going to be painted so you don't care what they look like or even what condition they are in.
How to make a Green Army Soldier Costume.
Cover the shirt and pants and cardboard with duct tape completely. The duct tape gives them the plastic look.
Spray paint everything with green spray paint.
Duct tape two toilet paper rolls together and spray paint those for the binoculars.
Let them try over night and then paint a second coat.
Then use Halloween makeup to paint the face and hands.
That is it! No sewing needed at all for this costume.  I think it cost between $10-20, it took a few days to make because you have to let the paint dry, but this is one costume you could make in a pinch! Use that cardboard bottom for some cute photo props!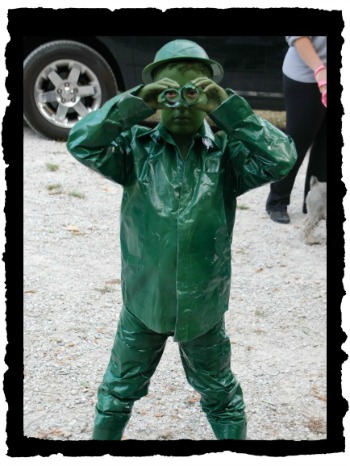 I am sure heads will turn when you are trick or treating in this costume. This is WAY cuter than the ones I found on Amazon for $35 and more.
I am sure head will turn when your kids are trick or treating this year in this awesome costume!
Thanks so much for sharing your awesome costume idea Lisa. We love it!

Here are more cute homemade costume tutorials: