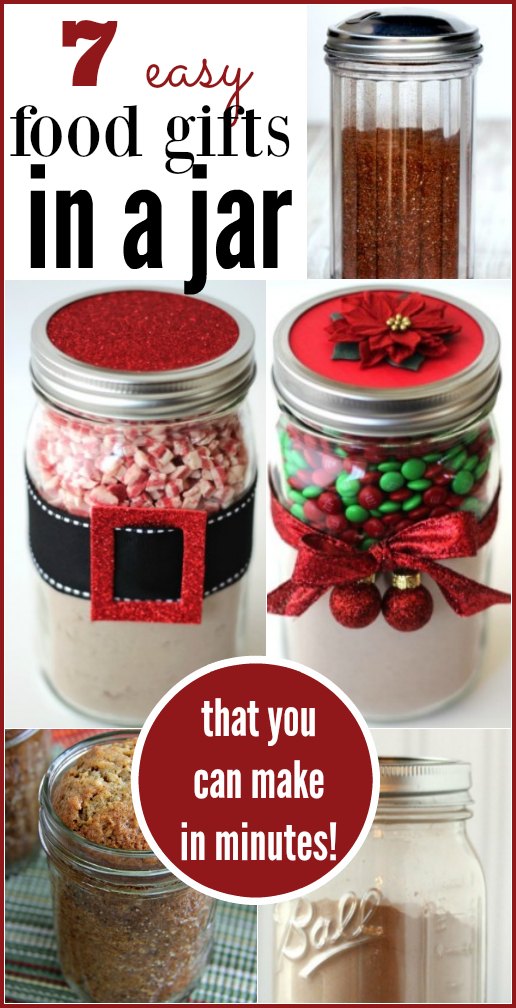 I just love mason jars, I know I've told you that before. They are inexpensive, can be decorated very easily and they make great containers for gifts! Did you like the non food gifts in a jar I put together for you? This time I decided to share with your some food gifts in a jar. There are so many different options here. I pulled together 7 of my favorite ideas for you and assembled them all here. Let me know what you think!
1. Homemade Hot Chocolate
Just about everyone loves a nice cup of hot chocolate now and then. Why not make up a big batch of this Homemade Hot Chocolate Mix, toss it into a mason jar and gift it away? All you need is a cute tag and teaspoon and you're all set. What a simple, yet practical gift!
2. S'mores Dessert Trifle in a Jar
Talk about delicious! Who says 'smores can only be eaten in the summertime near the campfire? With this 'Smores Dessert Trifle in a Jar, you can gift the deliciousness of 'smores any time of year. There are only a handful of ingredients here so you will have these assembled and ready to be eaten gifted in no time.
3. Homemade Nesquick
Here is another great food gifts in a jar idea – Homemade Nesquick. This is SO easy to make, you'll be wondering why you haven't been making this for years. I'm sure any family, especially one with little ones, would love to receive this as a gift. This would be great for the neighbors. Just add a label and a decorative ribbon and you're all set.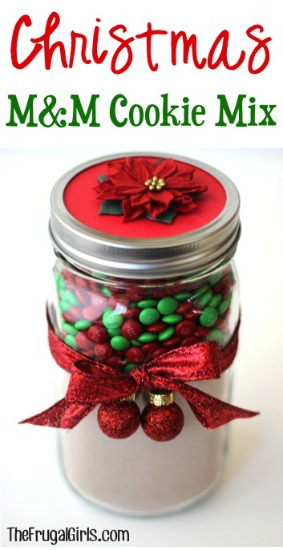 4. Christmas M&M Cookie Mix in a Jar
Isn't this beautiful? Not only do you have this gorgeous gift ti give away, but there is a very delicious M&M Cookie Mix inside! What a great gift. There are only 2 ingredients to these cookies so this is a super easy gift to make.
5. Banana Bread in a Jar
Instead of giving a mix in a jar, why not give this already made Banana Bread in a Jar? These are easy to assemble en masse so you can make a bunch for friends, family, neighbors – even give them away at your holiday party as favors. Just add some cute fabric to the lid with a fun label and you have yourself a quick and inexpensive gift.
6. Homemade Chili Seasoning in a Jar
Ok, this gift might seem unconventional because it is not a sweet creation in a jar, but Homemade Chili Seasoning would make such a great gift! We eat a lot of chili in our house, so I love being able to reach into the pantry to grab my jar of homemade chili seasoning. Who wouldn't love that?
7. Peppermint Crunch Dark Chocolate Cookie Mix in a Jar
What a fun food gifts in a jar idea! This Peppermint Crunch Dark Chocolate Cookie Mix would make an excellent gift for teachers or neighbors. Simply add the TWO ingredients to the jar, tie a cute ribbon around the middle and you have a gift they'll be talking about in the teacher's lounge. I am actually going to make these cookies this week because they look so yummy.
The materials needed for these food gifts in a jar are so simply, you can throw any of these gift ideas together quickly and inexpensively. The most money you'll spend will probably be on the mason jars. Find mason jars on sale here.
See some great non food gift ideas in a jar here: