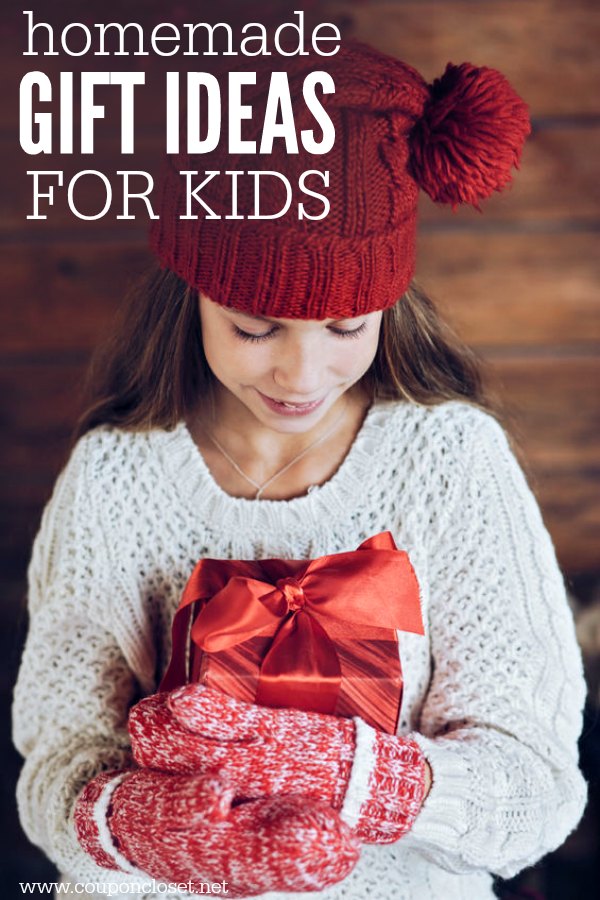 Nothing beats a homemade gift.  If you're looking for a gift made for kids, by kids, or both, take a look at these Homemade Gifts for Kids ideas! The homemade Christmas gifts for kids are the perfect solution to a fun but frugal holiday. You can easily save a ton of money by making some gifts that the kids will actually enjoy!
Over 20 Homemade Christmas Gifts for Kids:
The best part is how easy and frugal it is to make. This won't break the bank, but can give you many afternoons of fun – especially on rainy days and snow days when the kids are about to bounce off the walls.
This is one of our all time favorite homemade gifts for kids idea. The process of mixing the playdough is super simple and adding the color is so fun for the little ones. Kids get the hands on experience of watching liquid turn into dough in a total of 5 minutes tops and can start playing with it within minutes of cooling. Best of all your kids can choose the color they want.
3. Two Ingredient-Homemade Silly Putty from Learn Play Imagine
Use these two simple ingredients to make a big batch of a childhood favorite: silly putty!
4. How to Make Gingerbread Playdough
Not only is this fun, but is smells good enough to eat.  This would be extra fun to do around Christmastime! The kids love this.
5. Easy Homemade Bubbles Solution
Have you ever made homemade bubble solution for your kids to play with?The kids had a blast and the best part… it didn't cost me a penny!
6. How to Make Cloud Dough from Powerful Mothering
This cloud dough is perfect for those kids with sensory issues.  It is fluffy, dry, and doesn't stick to their hands.  It is so much fun to play with!
This frugal gift idea is crazy easy to make, and super inexpensive to put together. This is an easy homemade Christmas gifts for kids idea. What child doesn't love to make cookies?
8. Homemade Glow in the Dark Slime from A Pumpkin and a Princess
Homemade slime is an all time favorite around here. Whether you call it slime, gak, or putty this homemade glow in the dark slime recipe is a fun activity for kids that will keep them occupied for hours!
9. Easy to Make Bath Bomb Recipe
These DIY bath bombs are easy to make, and kid friendly too.  Make bath time even more fun!
10. Homemade Sidewalk Chalk Paint from Passion for Savings
It's really simple to make your own Sidewalk Chalk Paint and it really washes off with the rain so it's a fun activity the kids can do over and over again!
11. Make Your Own Sidewalk Chalk from Playful Learning
Pick your own colors of chalk and own sizes to really customize your child's sidewalk chalk.  Such a fun homemade gifts for kids idea.
Pamper someone special by gifting them a big jar of their very own homemade bath soak.  So luxurious!
13. Kool-Aid Play Dough from Our Family of Seven
Head to your pantry to get the ingredients for this super fun play dough that will entertain the kids for hours!
14. Homemade Slime from Our Best Bites
This fun craft can easily be turned into a science lesson.  Older kids can help measure and stir and younger ones can stand and protest that they don't get to. And then try to eat the science experiment. It's all about the family fun.
15. DIY Bath Crayons from Glimmer and Grit
Is bath time a big deal in your house?  Drawing in the tub is something that will keep the kids happy and make them feel like they are doing some super silly!
16. Marshmallow Guns from The Idea Room
Have you ever played with these Marshmallow Guns? They are so much fun! You will want to join in with the kids on this one! And you can eat the ammunition! How awesome is that?
17. Baby Doll Diapers and Accessories from Craftaholics Anonymous
Your little girls who love playing with dolls with love these homemade diapers and wipes for their "babies" – and you'll love how frugal this project is!
18. How To Build a Simple Lego Tray from Somewhat Simple
Lego tables can be super expensive.  Build your own Lego tray for your Lego fans for a small fraction of the price! My kids have these and love them.
19. Simple Dishtowel Aprons from Dandee Designs
This is a simple beginning sewing project that will make both you and your girl proud.
20. Make Your Own Filled Balloon from Kids Activities Blog
These filled balloon juggling balls are easy to make and are a nice beginners juggling tool. This is such a fun Homemade Gifts for Kids idea that would be perfect for the stocking.
21. Make Your Own Lollipops from Kids Activities Blogs
Turn your Jolly Rancher hard candies into lollipops that are more suitable for the little ones.
There you have it. 21 fun and frugal homemade Christmas gifts for kids that the kids will love! Take a minute this year to enjoy yourself and make something special for the children in your life. I know they will love it!
Don't forget to also check out our holiday gift guides.
Which of these Homemade Gifts for Kids are you going to make?
Looking to get the kids involved in helping others? We have a huge list of Samaritan's Purse Operation Christmas Child Gift Ideas. 
More Ways to save money: