If you are planning on making some homemade gifts this year, I wanted to share these great homemade photo gift ideas. These ideas make excellent presents for family and friends, especially the ones who don't get a chance to see your family very often.
Photo gift ideas
Have you ever met a grandparent that didn't want more pictures of their grandkids? Ya, me neither. 😉 They especially will love these ideas!
Each of these ideas are great for birthdays, special occasions, Mother's Day, Christmas and more! These ideas are so fun and thoughtful that you might want to make several of these gift ideas.
Here are some of my favorite creative photo gift ideas.
Try making one of these personalized photo gift ideas to put a smile on someone's face. These ideas are sure to brighten their day. DIY photo crafts are a blast to make and everyone will love getting one.
Whenever we give one of these fun ideas, everyone goes crazy over them. They are just so fun and thoughtful!
Make one today and let us know how it turned out. You will love these ideas! I know I always love photos of my children!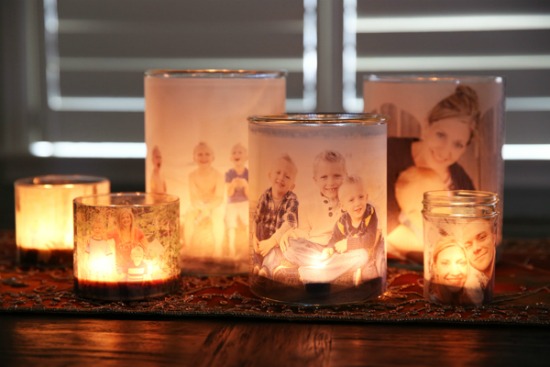 8 homemade photo gift ideas you will love:
These are adorable and easy to make!
1. Glowing Family Luminaries
These picture wrapped candles are beautiful! I just love how they glow, making the photo stand out even more. See how easy these Glowing Family Luminaries are to make here.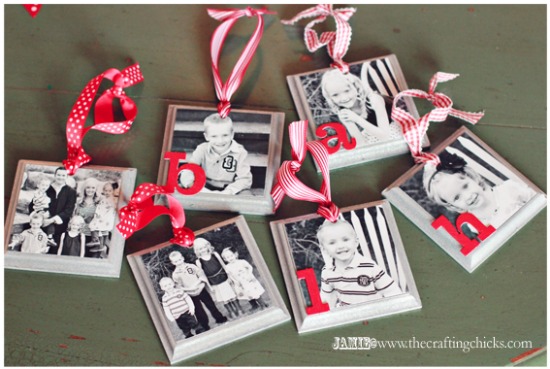 2. Homemade Photo Ornaments
Talk about cute! These Homemade Photo Ornaments are adorable and they are SO easy to make! Choose your favorite color backdrop and your favorite pictures and you are all set. Learn how to make these fun ornaments here.
3. DIY Bow Picture Frame
This DIY Bow Picture Frame is so simple here yet so chic and remind me of Country Living! There is an awesome tutorial on how exactly to make the bow so anyone can make this – even the not so crafty people like me. 😉
4. Count Your Blessings Board
This would make a great gift for the kids (and dad) to make for mom! How sweet would it be to make this Count Your Blessings Board here? Just assemble your materials and pick out your favorite pictures of your little cuties. I'm thinking this would make a great gift for my sister…
5. Photo Coasters Using Resin
These Photo Coasters are so beautiful. Now, this project is a little more complicated then some of the others, but as long as you follow the directions well, you shouldn't have any problems. I think this would make a great girls night in project – invite the gals over and everyone can make a handful of gorgeous Photo Coasters here.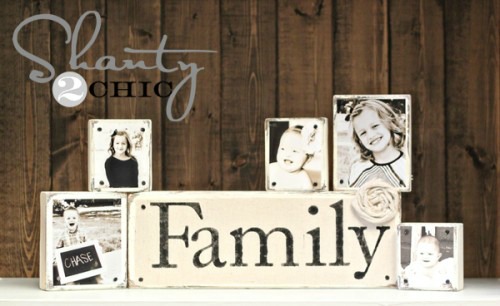 6. DIY Nailhead Photo Blocks
Wow! Talk about a great gift. These DIY Nailhead Photo Blocks here are amazing! These would make a great gift for any family or friend. The photo blocks are simple enough to put together and they are so classy. Anyone would be proud to display these blocks on their mantle any time of year.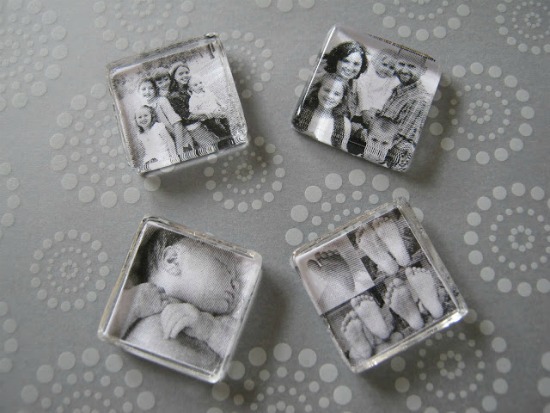 7. Photo Pendants
Tell me these Photo Pendants aren't amazing! These are so personal and so precious. Follow the tutorial here and you will have these gorgeous photo pendants to give away. You can pick up everything you need for this craft at your local craft store.
8. DIY Photo Block
This adorable photo block is perfect for the Grandparents or anyone special! You can easily change the colors to work for any holiday. Get the details here.
These are the best photo gifts!
There are so many great ideas to try. You will be busy all year making fun and thoughtful gifts to give to everyone.
I bet your friends and family will look forward to the next occasion to see what adorable photo gift they will get.
Giving pictures as gifts is a thoughtful gift idea.
Which of these homemade photo gift ideas diy do you plan to make?
I love the Luminaries but I really love the Photo Pendants as well. Pick your favorite gift ideas and start assembling them soon! Christmas will be here before you know it.
Handmade gifts using photos are so fun!
Gifts with pictures on them are the perfect gift for family members. Use some of your favorite photos and create personalized photo gifts they will love.
Photo gift ideas are perfect for Father's day gifts, Mother's day and more. So, pull out photo album and look for your favorite family photo for one of these homemade diy photo gifts.
From unusual photo gifts to funny photo gift ideas, there are ideas everyone will love to make and receive. These ideas are simple to make and unique.
You will have a blast making these photo gifts and they are not expensive or hard to make. We love simple and easy around here. 🙂
Plus, it is the thought that counts and everyone will truly love these priceless gifts. Give them a try!
Try one of these ideas for photos gifts!
We love giving personalized gifts that we make to our friends and family. Whether you make a photo collage or photo frame, the ideas are endless for gifts to make.
We have a huge list of personalized gifts for Grandma she will love. Make her feel extra special this Christmas with one of these thoughtful and meaningful gift ideas she will adore!
Let's talk about some of the Best Christmas Stocking Stuffer Ideas for the entire family. We have ideas for young children, teenagers and even adults that they will love and don't cost a fortune!
Think outside the box and learn how to wrap gifts creatively this year.

Check out more gift ideas here: