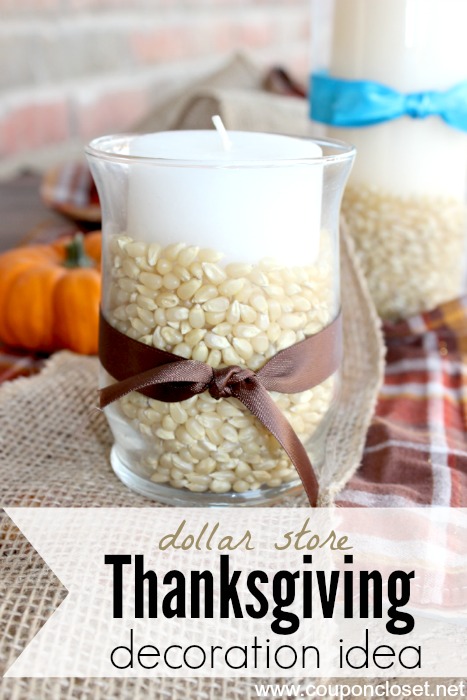 If there is one thing I love to do besides couponing and cooking, it is decorating on a budget. Dollar Store DIY is the way to go, because it is a great way to save money and still decorate nicely.
I love to have nice things without spending a lot of money. Don't we all?  😉 I thought I would share some Thanksgiving Decoration ideas, and today it was made from Dollar Tree. This super cute vase idea was all purchased at Dollar Tree.
Yes, it was all purchased at the Dollar store. This is what you need:
Small vase – $1 (they have several different sizes)
white candle – $1
bag of popcorn kernals – $1 (you won't need much)
roll of small ribbon  – $1  (will be enough for several of these)
How to make this cute DIY Thanksgiving Decoration:
Wash out your vase.
Fill up the vase with popcorn kernels about 1/4 the way up.
Push down the candle. Rotate the candle back and forth to get the candle pushed down and the kernels pushed up the side.
Do this until you get to the point of where you like it. I liked it about 3/4 the way up.
Tie your ribbon (we used brown) around it the vase for details.
Use it for a centerpiece, add to your fireplace or anywhere where you want to add some fall touches. I told you this DIY thanksgiving decoration was easy to make.
The finishing touches are just adorable. We get compliments on these every year. I've placed them on my fireplace and on our Thanksgiving table to make a beautiful Thanksgiving dinner centerpiece. When you add them with some burlap and fall fabric you can create a really cute Thanksgiving table. In fact, consider making these to go with the burlap placemats.
I even made some with a bigger vase. The vase, ribbon, and kernels were all from Dollar Tree, but I already had the candle in my house. I decided to add a bright colored ribbon because I loved the POP of color among all the fall colors. What do you think?
How to make this into a Thanksgiving dinner Centerpiece:
Make several of these Dollar store DIY candles from above.
Add in a burlap runner. I also ran some plaid fabric down my table underneath the burlap.
Alternate some small real pumpkins (or purchase some from the dollar store) for a beautiful Thanksgiving dinner centerpiece.
Surely you can do this easy craft, right?
Make sure you also try our other DIY Thanksgiving Decoration:

We have 25 DIY Fall decorating ideas you will love. These ideas are simple to make and won't break the bank.
It's time to start thinking about Fall. Get your house ready with these DIY Fall Centerpiece ideas.
Whether you're hosting Thanksgiving or just want to make your dining room table festive, it's fun to dress up your table. We have 20 easy Thanksgiving table decor ideas that you can make with very little time or effort. 
Here are 25 Easy Fall Soup Recipes to try all season long!
More Table Decorations for Thanksgiving: