Are you gearing up for spring cleaning? Our weather has been unseasonably warm for this time of year so I feel like it is already spring! Since I am feeling the cleaning bug, I thought I would share with you some of my favorite cleaning supplies. These are not expensive or fancy, but I do think these are the best cleaning supplies for getting the job done.
If you are overwhelmed with cleaning make sure you read our post on how to get your house clean with just a few minutes a day.  It is a life saver for our family. Also make sure you check out all our house cleaning tips and tricks. I think many will surprise you.
Let's get ready for spring cleaning.
The 5 Best Cleaning Supplies You need!
1. Magic Erasers.
I love magic erasers! They are my go-to cleaner when I have a tough spot to clean. I do test a hidden area to make sure it won't damage my surface, but these really do a nice job on most of my cleaning jobs. My favorite use is cleaning my stove top. This works wonders! There are so many more uses for Magic Erasers then just cleaning your stove top. See my 25 Uses for Mr. Clean Magic Erasers here.
Mr. Clean Magic Erasers can be a bit pricey, but we can find cleaners similar to "magic erasers" on Amazon for only a fraction of the cost. LOVE THEM!
2. Lint Free Cloths.
This may seem like a no brainer, but lint-free cloths really do make all the difference. These are nice because when you dust, they don't leave behind fuzz. I use these to clean my stainless steel appliances. I also use these to clean other household items like blinds and carpets.
You can find a variety of lint-free cloths on Amazon for cheap, too. Make sure you grab several of them.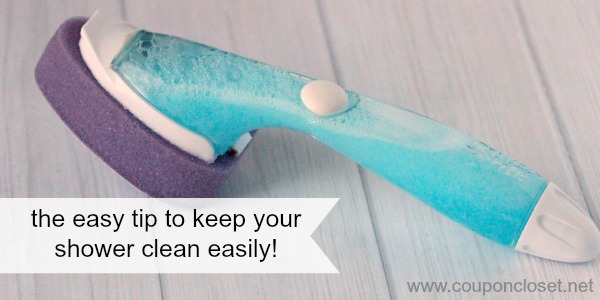 3. Soap Dispensing Brush.
Ok, this may seem a little silly, but I have a few different soap dispensing brushes around the house. One, of course, I use to clean my dishes, but another I keep in the shower. I have a great homemade shower cleaner that works really well when paired with a soap dispensing brush.
This is a nice tool for cleaning car mats or even spot cleaning your carpet.
You can find these at Dollar Tree or even Amazon.
4. Fels Naptha.
I LOVE this cleaner! This has to be one of THE best cleaning supplies out there. I used it in my Homemade Laundry Detergent and its the Best Stain Remover. I also use it to clean our car mats.
If you shop with Amazon Prime Pantry, you can easily add this to your pantry box (learn how Amazon prime pantry can save you money), otherwise, you can find it in most grocery stores for about $1 or snag them on Amazon here.

5. Vinegar.
This is probably the most universal cleaning supply. If you make your own cleaners, more than likely it has vinegar in it. I use vinegar in everything from cleaning pee out of a mattress to making fabric softener sheets. Vinegar also works wonders at getting rid of that nasty mildew smell we get when we leave damp clothes in the washer a little too long. It can even Clean your Shower Head in one easy step.
Check out these 10 Uses for Vinegar to help save you money. You can pick up vinegar the next time you are grocery shopping and test it out for yourself. It really is an all-purpose cleaner.
These are my 5 best cleaning supplies! What are yours? What are your go-to cleaners that never let you down? I'd love to hear what you use. Maybe I can try them out for myself.
Learn how to get pee out of mattress. The solution is simple and you probably already have everything you need at home.