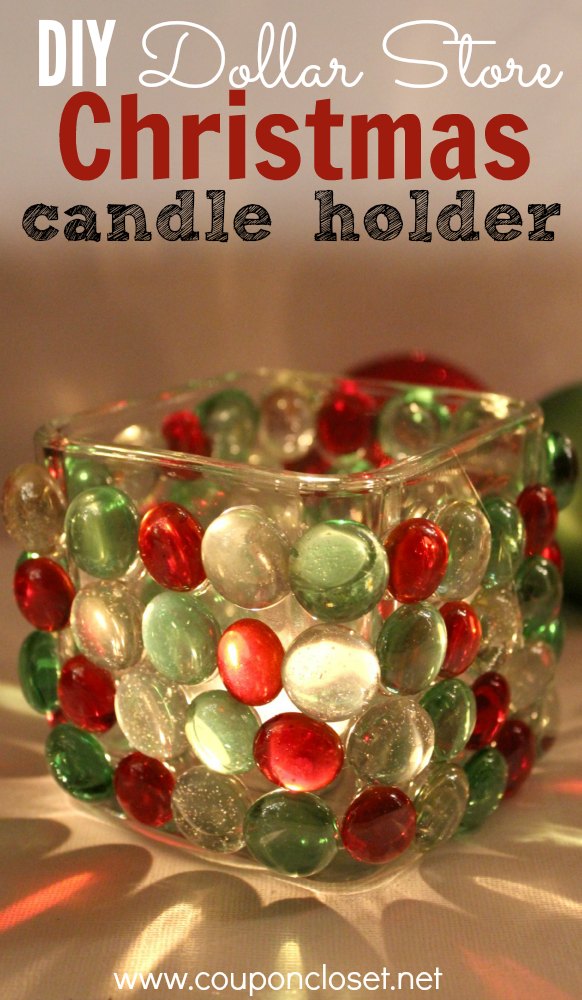 I have such a fun and frugal craft to share with you today. Today I'm showing you how to make this Dollar Store Christmas Candle Holder. I love how it gives off this almost prism like light which will just jazz up your holiday decor.
Remember, decorating doesn't have to cost you a fortune. From our Christmas tree tricks to my gift wrapping ideas to my frugal homemade Christmas ornaments, you know I don't want to spend a fortune on decorating for Christmas. This fun craft is perfect for your to jazz up your decor without spending a ton of money.


This is a simple Christmas craft and also makes a great gift idea!
What you need:
How to make Dollar Store Christmas Candle Holder:

1. Begin by emptying your glass beads on a flat surface and separating the colors if creating a pattern.
MY LATEST VIDEOS

2. With the hot glue gun glue a row of gems to the top, all the way around.  (They stick in an unbelievably short time, so take your time because if you make a mistake they are almost impossible to get off).
3. Placing them in rows will make sure you have room since the stones may not be all the same size.


4.  Keep adding rows until you have reached the bottom.
5. Take a look to be sure no glue gun strings are hanging off and pull off any if
5. Add a votive candle & you're done!
Isn't it beautiful?
No one would ever guess that you made it from items you bought at a Dollar store!

Now this is beautiful for Christmas but really, you can do it for any decor. Even all clear ones would be fun. The possibilities are endless.