We have compiled a list of 20 Christmas gift ideas for Teachers! You will find everything from cute gifts to homemade goodies. Plus, several fun gift card ideas too!
If you are shopping for a teacher, this list is definitely one to check out! This is another fun holiday gift guide packed with fun and frugal ideas.
You can also get over 25 different frugal teacher appreciation gift ideas here. They will love these cute gift ideas.
20 Christmas Gift ideas for Teachers:
Here are several thoughtful gifts you can order for your child's teacher for not a lot of money.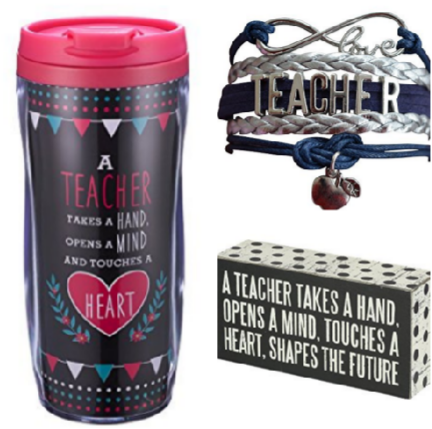 1. Blessings to the Teacher Travel Mug- I love the quote on this one $25
2. Infinity Teacher Bracelet $9.99
3. Distressed Wooden Sign- "A Teacher Takes a Hand, Opens a Mind, Touches a Heart, Shapes the Furniture" $7.99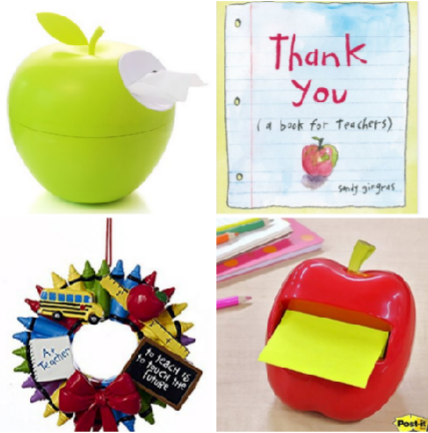 4. Apple Shaped Tissue Box Holder $19.99- This is too cute!
5. Post It Pop Up Note Dispenser $9.26
6. Thank You: A Book for Teachers $8.49
7. Crayon Wreath Ornament $8.80
8. Starbucks Gift Cards– various amounts
Here is a great idea from saucy sprinkles for jazzing up a Starbucks gift card.

Homemade Christmas gift ideas for teachers
If you enjoy making homemade gifts, here are several ideas for teachers.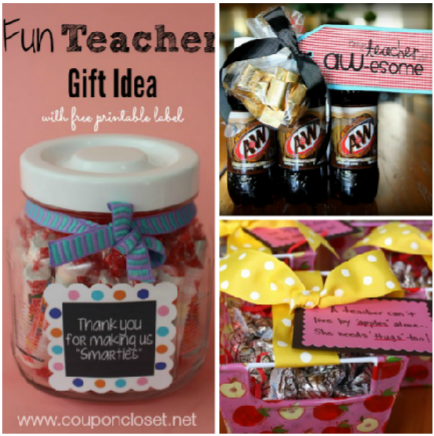 9. Thank you for Making us Smarties. We just love this and we made it for under $4 from the dollar store!
10. My Teacher is "AW-esome"! Get a free printable template and just add root beer!
11. Gift basket- "A Teacher Can't live by apple alone, She needs hugs too!"– Love this idea with chocolate inside!
12. We Need Smore Teachers Like You Printable– give your teacher this delicious smore treat! Love this printable.
13. Homemade Bath Soak Bubbling Bath Salts – she'll be able to squeeze in some pampering on her own schedule. You can make any scent that she loves!
14. Lemonade Sugar Scrub– This is so easy!
15. Make your teacher this fun artwork made out of crayons. You can buy everything at Dollar Tree!
16. Homemade Candles– Everyone loves to receive candles as a gift, but how neat would it be to receive a Homemade Candle? You can create a candle in almost anything – a cute mug, a champagne flute, or really anything with a solid base. This is such a unique gift idea!
17. Homemade Hand Cream– I love a good hand cream but they can be so expensive. This is a simple DIY version that would be a thoughtful gift.
Fun Gift Card Ideas for Teachers: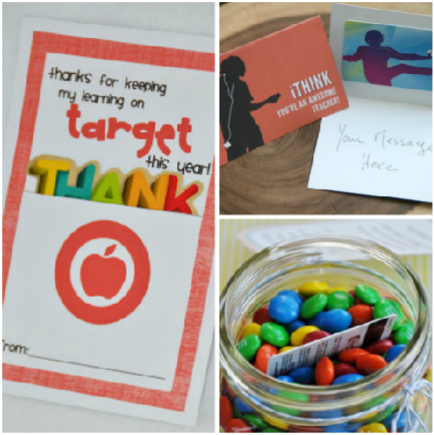 Sometimes teachers would just rather have a gift card, so I thought I would give you some fun gift card ideas for teachers.
18. iTunes Gift Card Idea- Free printable
19. Gift Card hidden in a Candy Jar- so fun!
20. Target gift card Idea with free printable– Who doesn't love Target?!
Which one of these Christmas gift ideas for teachers do you love the most?
You can also get back to school teacher gift ideas. Just a little something to let teachers know you care can really go a long way!